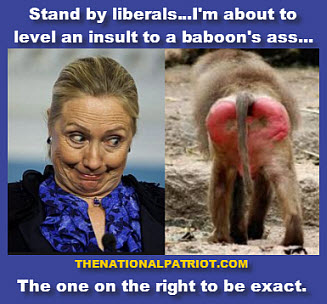 Poor Barack Hussein Obama.
At some point in the future when he becomes a grandparent, nobody in the media will be able to gush over his being our nation's first black presidential grandchild.
How sad.
First of all, that honor should go to Thomas Jefferson citing his affair with Sally Hemings, a Monticello slave at the time and DNA evidence compiled in 1998 regarding the fact that Heming's youngest son, Eston Hemings, shared male ancestry with our third president.
While that has been disputed by some, there can be NO dispute over who our first black president was.
One, pasty white, Bill Clinton as deemed by the liberal media back in the day and now, with the mainstream media literally OOZING vapidness from every pour regarding the recent news of Chelsea Clinton's impending birth canal expulsion, any future Obama offspring would come in a distant third but, while on the topic…
The child of Chelsea may well not even be the 2nd black presidential grandspawn given Horny Bill's propensity to be as monogamous as a rabbit on Viagra in a hutch full of hot-to-trot bunnies regardless of his poor aim in relation to his presidential humidor, Monica Lewinski.
There could well be more Clinton offspring out there of child bearing age for all we know.
Now, I know there are some out there who believe, perhaps with some validity, that the Obama's adopted but…