Welcome to Right Side Patriots!
If you're looking for straight forward, hard hitting and often biting commentary on the news of the week mixed with some humor and great guests, you've come to the right place.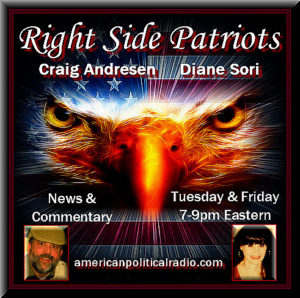 Right Side Patriots is live on the air every Tuesday and Friday from 7-9pm EST on American Political Radio.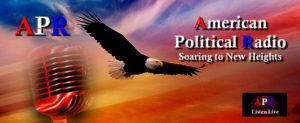 Hosted by Craig Andresen from The National Patriot and Diane Sori from The Patriot Factor…Right Side Patriots will cover the political landscape from the right side of the aisle and, the right side of the issues.
To listen to our latest show from our SoundCloud archive, Click Here!!
Our intro to the show has been graciously provided by recording artist Ava Aston and, it's more than just music. "We The People" is an attitude and a call to action. It's who we are and what WE need to do.
Ava's music can be downloaded at avaaston.com so…Just click the link to support this great Patriot!!!
It's time to wake up, America and get out there to take our country back.
We'll put the archives of Right Side Patriots right here, every week and we ask that you give us a listen and share the links to each show via social media and your email lists.
Together…WE can rise up…WE can SPEAK OUT and WE can RESTORE this great nation to the vision entrusted us by the Founders and Framers.
Right Side Patriots is ON THE AIR!!!