By Craig Andresen – Right Side Patriots on American Political Radio
The GOP establishment is playing directly into the hands, and into the agenda of liberals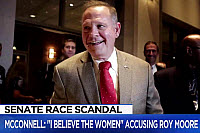 where Judge Roy Moore is concerned, and I for one have had quite enough of it.
Rand Paul has joined the RINO chorus calling for Moore to step aside.
Attorney General Jeff Sessions who, with an apparent lack of things to do regarding the evidence against Hillary Clinton and her crime syndicate, which includes Obama has also made it known that he sees no reason NOT to believe the five women who…after decades of abject silence, have accused Moore of sexual misconduct.
Mitch McConnell, RINO extraordinaire, says that "I believe the women."
And then…there is Senator Ted Cruz who summed up the RINO position in his disturbing statement…