By Craig Andresen – Right Side Patriots on American Political Radio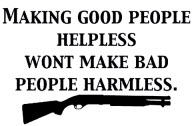 Following last week's shooting at a high school in south Florida, the requisite liberal responses, were rubber stamped and ready to go.
We've heard all of this politically correct, politically expedient nonsense before.
Liberals always seize on such horrific events to make their abject hatred of our 2nd Amendment rights heard, never letting a crisis go to waste. First and foremost, liberals, in their never-ending quest to eliminate our rights, blame the gun, tell us we must do something to "solve the gun problem" and then proceed to place the blame on anything, or anyone other than the slime that pulled the trigger.
People are dying every day at the hands of those who shouldn't have guns on the streets of some of our nation's most well-known cities…