Tuesday, April 15th, 2014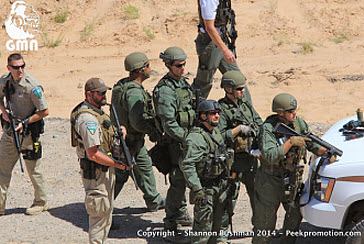 Don't let the liberals lie and claim there was a "DEAL" struck at the Bundy Ranch last Sunday whereby the BLM agreed to release the cattle they had illegally rounded up.
Don't buy into the mainstream media soft sell of how the "deal" was something akin to a stand down to allow the courts to further assess the situation because the BLM didn't want to put anyone in harm's way either.
Neither is the truth and what the BLM…the Obama regime and the mainstream media doesn't want you to know is that, in fact, it was what they claim to be the "all talk and no go" Conservatives…Patriots and militia groups that FORCED the feds to cut and run for the time being.
There have been numerous reports regarding what went down and, with so many people claiming this and that, we turn to a source which cannot be impugned.
The unbiased eye of today's NEW media…
Video.
After attempts by Clark County Sheriff, Doug Gillespie, to bluff the militia Patriot groups into leaving while the BLM and federal agents kept the rustled cattle, the Patriots declined to stand down. In fact, those Patriots made a bold move to exert the power of We the People in a most provoking manner.
Rather than stand their ground…Patriots on foot and horseback approached the barricades erected by the BLM and heavily armed federal agents all the while being ordered by bull horned voices to stop, not approach and back away from those barricades.
The Patriots refused and shouted back their own demands that the BLM and those pointing their weapons directly at advancing Patriots be the ones to leave.
Upon reaching the barricade, something of a confrontation between the Patriot militia groups and an armed federal agent took place face to face with the patriots abjectly refusing to be intimidated in any way.
In the video below…