Wednesday, April 2nd, 2014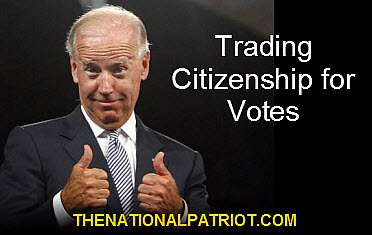 According to Vice Weasel, Joe Biden…
"These people are just waiting, waiting for a chance to be able to contribute fully, and by that standard, 11 million undocumented aliens are already Americans, in my view. They just want a decent life for their kids and a chance to contribute to a free society, a chance to put down roots and help build the next great American century. I really believe that. That's what they're fighting for."
That's a direct quote from his speech a few days ago at the Hispanic Chamber of Commerce and, it leaves me with what I believe to be a pertinent question.
HAS HE LOST HIS LAST MARBLE???
He's talking about ILLEGAL (undocumented in liberal speak) ALIENS.
One simply cannot be an ALIEN…Illegal OR undocumented and still be an AMERICAN. It doesn't work that way Joe and YOU KNOW IT.
What those people are, to liberals, are UNREGISTERED LIBERAL VOTERS and nothing less.
Hmmm…Come to think of it, I have more than one pertinent question.
Given the FACT that we learned, ON THE SAME DAY as this BLOVIATING, BOVINE BUTT-BLAST'S speech…That ICE, under this regime has turned loose some 68,000 ILLEGAL ALIEN…CRIMINALS…into our cities and onto our streets…COUPLED WITH THE FACT THAT…they have failed to remove from our soil…SOME 870 THOUSAND…ILLEGAL ALIENS…WITH MANDATORY DEPORTATION ORDERS AGAINST THEM…IN 2013 ALONE…
Just what, exactly, were all THOSE ILLEGAL ALIENS so damn EAGER to…"CONTRIBUTE"…TO OUR ONCE SOVEREIGN NATION???
Oh yes…