Be sure to Click LIKE at the bottom of this article, and share it everywhere!!
By Craig Andresen – Right Side Patriots on American Political Radio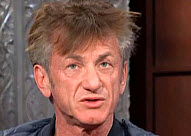 The fantasy world in which celebrities dwell is no place for the all too real, rough and tumble world of political discourse, but far too many celebrities now believe they're God's gift to politics, and they just can't bring themselves to shut the hell up.
To begin with, way, WAY too many celebrities are liberals…and I mean set off the smoke alarms flaming liberals. What they really are is communists pretending to be socialists, masquerading as democrats. We're talking about the ilk of Sean Penn, who pals around with dictators of various socialist, or outright communist countries, and then tries to convince the rest of us that our country should be a whole lot more like the shithole countries presided over by his best buddies.
Penn, you commie hugging shallow end of the gene pool, lump of sewage…