By Craig Andresen – The National Patriot and Right Side Patriots oncprworldwidemedia.net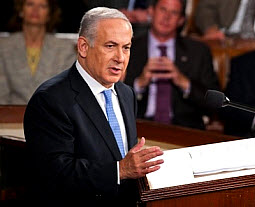 "I can only urge the leaders of the world not to repeat the mistakes of the past. […] I can guarantee you this: The days when the Jewish people remain passive in the face of genocidal enemies – those days are over."
– Israeli Prime Minister Benjamin Netanyahu
I had such high hopes for Netanyahu's speech before the joint session of Congress yesterday…such high hopes.
They were not realized…they were exceeded tenfold.
It was a speech for the ages…a speech not just for the Members of Congress, not just for the American people but a speech for the civilized world. Prime Minister Netanyahu came to Washington and delivered the goods in a way that made THE most compelling argument against Obama's 'deal' with Iran imaginable.
Netahyahu outlined the specifics of that 'deal' that are out there and free game for anyone to look up online, making sure not to divulge any classified information. This served two purposes…first, to put the information regarding Obama's deal on the table in an open forum before a worldwide audience and second, it brilliantly outlined for the whole world to see, the ulterior motives OF Obama.
The Obama 'deal' would allow Iran to continue on their way toward nuclear weapons…to continue to employ most of their current centrifuges in order to refine nuclear weapons grade material and to lift sanctions in a decade's time thus freeing Iran to put their nuclear weapons program into high gear and build an enormous stockpile of the most devastating weapons on earth.
Such a 'deal' would only delay the time frame for Iran to possess nuclear weapons…