Be sure to Click LIKE at the bottom of this article, and share it everywhere!!
By Craig Andresen – Right Side Patriots on American Political Radio
"It doesn't matter, he's dying anyway."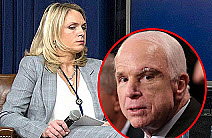 That was the response from Presidential Special Assistant, Kelly Sadler, during a discussion regarding opposition to Gina Haspel's nomination for CIA director which included John McCain's statement that while he believes Haspel is a "patriot," he also believes "her refusal to acknowledge torture's immorality is disqualifying."
McCain himself was tortured as a prisoner of war in Vietnam, which puts his views into context, but what it doesn't take into account is that the North Vietnamese engaged in torture well above and beyond the sorts of enhanced interrogation techniques employed by the CIA in recent years.
The outrage over Kelly Sadler's comment has been widely played up by the mainstream media over the past week, and some have openly called for her to be fired.
Why?