Investigative Report By Craig Andresen and Diane Sori / Right Side Patriots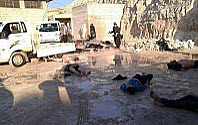 It is a well-known fact that when one rushes to judgment one tends to be wrong. And it is also a well-known fact that gut instincts are usually right especially when they nag at you and will not let go.
Such is the case with the recent chemical gas attack 'supposedly' being committed by Syrian President Bashir al-Assad against his own people in the rebel-held northern Idlib province city of Khan Sheikhun…a city actually bordering on Hama province. And how quickly he was blamed, how quickly the call to judgment was made for after all no one can dispute the fact that al-Assad is a 'bad guy' who has in the past done bad things, and so it must be him doing this even 'badder thing' now. And when this most grievous of actions reached the ear of the public the collective outcry against al-Assad was heard loud and clear even before any definitive facts and truths surrounding the tragedy could emerge.