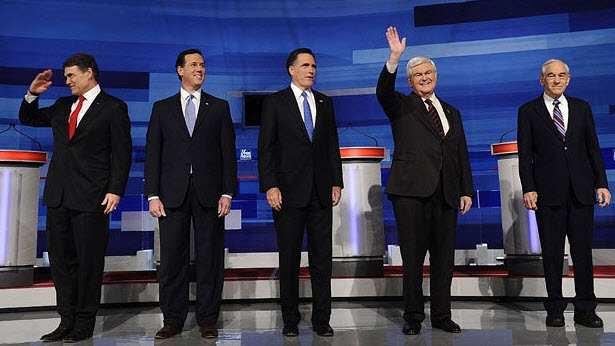 While the 5 remaining GOP candidates continue to jockey for position through the January primary calendar, one should not discount any number of possible wildcards yet to be played.
This Saturday, South Carolina votes and that race is getting tighter after last night's debate. Depending on the South Carolina outcome, we may well just be watching the beginning of the real race to the nomination.
After Saturday, it's easy to see Rick Perry dropping out. His financial backing has evaporated and his slow start with debates never allowed him to gain the sort of traction he enjoyed in the weeks before he actually entered the race.
This is not to say he will leave empty handed as he does have some die hard supporters.
Wildcard 1…Who will Perry endorse when he drops out?
It seems unlikely he'll get behind Romney and impossible to believe he'll throw his support to Ron Paul. That leaves Santorum and Gingrich – and let's face it, Perry, Gingrich and Santorum have been splitting up the "Not Romney" vote for several weeks.