Be sure to Click LIKE at the bottom of this article, and share it everywhere!!
By Craig Andresen – Right Side Patriots on American Political Radio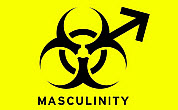 Toxic masculinity…it's all the rage right now amongst liberals who are always looking for something at which to direct their collective rage. You know who I'm talking about…the tolerant left who are always seeking out new targets for their collective intolerance.
Liberals…the perpetually, terminally offended. Those to whom great offense is always taken due to the actions of those who are rarely offended by anything at all. You know…liberals…the victims of everything, responsible for nothing, owed by everyone and in desperate need of warping the world around them, and those who inhabit it to their own bent, distorted and intellectually dishonest mindset.
One day, it is the weather that has their panties in a wad…the next, it might be someone thinking that under the Constitution, we have a right to keep and bear arms.
Right now, for the moment, the flame throwing weapon aimed at the delicate little snowflakes is…
Masculinity.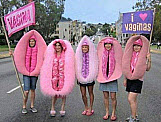 According to liberals…pink pussy hat donning, vagina costume wearing, bean sprout eating, socialism loving, and greenie weenie energy hugging ass hats…masculinity is…toxic.
How dare a man be a man, and how dare boys grow up to be men. Liberals don't want boys to become men…hell…they don't even want boys to be boys.
On the other hand…if girls want to be boys who grow up to be men…that's just fine with liberals. Not toxic at all. In fact…it is preferred. And if boys want to pretend they're girls and grow up to pretend that they're women…we must all pretend right along with them so as not to damage their make believe self-esteem.
So…what exactly is the definition of masculinity?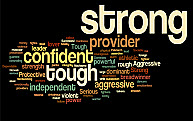 Qualities or attributes regarded as characteristic of men. As in…'handsome, muscled, and driven, he's a prime example of masculinity'
Seems rather straight forward, and pretty well benign.
How about the word, "toxic?" How is that defined?
Poisonous. Relating to or caused by poison. Very bad, unpleasant, or harmful.
Okay then…to liberals…qualities or attributes regarded as characteristics of men are…poisonous, very bad, unpleasant and/or…harmful.
DNA aside, it seems that Bruce Jenner really dodged a bullet…but Chastity Bono walked straight into one.
If we are to believe liberals, and certainly no one with at least one working brain cell would, men, who exhibit the traits of being…well…men…should not be gone near without wearing a hazmat suit, and if we aren't stopped post haste from passing along such traits…the essence of masculinity if you will, the world will come to an end even faster than Alexandria Occasional Cotex is leading us all to believe.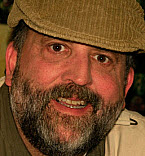 I mean…seriously…given my own proximity to the definition… handsome, muscled, and driven, he's a prime example of masculinity…I'm already damned near being Chernobyl myself. I am but one more chiseled feature away from being considered an epic meltdown.
Gillette, the company that manufacture razor blades and shaving cream thinks they can solve the issue with a TV commercial.

According to that commercial…the concept of what must be a snowflake ad exec…social reengineering must be undertaken immediately so that the boys of today won't grow up to be men at all…just an altered liberal version of what men used to be.
Here's the problem…men have been men since men were invented, and boys have always grown into men. That said, has the concept of what it is to be a man changed over the millions of years men have existed? Sure. Men have learned to be more refined, shall we say.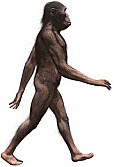 Now I'm not saying that the earliest forms of men weren't refined. Take your garden variety Australopithecus for example…on the surface, I'm sure most Australopithemen were a bit rough around the edges. They didn't wear pants for instance. I'm sure that fact made them seem somewhat brutish…perhaps even a bit ballsy around the office,  not to mention the gratuitous skid marks on the conference room chairs…but unrefined?
How could you possibly label a naked nearly human male unrefined if he took the time and effort to part the hair that covered his ass down the middle?
Since there were no "MissingLinksonly.com dating aps 2.5 million years ago, the courtship rituals of Australopithemen and Australopithewomen is unknown, but if one had to venture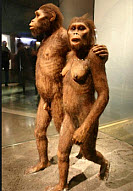 a guess, Australopithewomen were probably looking for an Australopitheman who was… handsome, muscled, and driven, a prime example of masculinity while Australopithemen were looking for an Australopithewoman with a nice ass and slightly less hairy legs…which means that liberal Australopithewomen probably weren't getting a whole lot of action.
The point is…from the beginning of men and women…women have had an innate sense of nesting, being somewhat more calm, maternal and more prone to a display of emotions while men have always had an innate  sense of being providers, protectors, more aggressive prone to display fewer emotions.
Those are basics…traits hardwired into humanity by DNA…and while aspects of behavior have changed…the basic instincts have not changed very much at all. It's what brings the two genders together…what attracts one gender to the other.
That said…if today's liberal women are looking for a man that more closely resembles the hardwired traits of women…than I suggest liberal women are really looking for a lesbian relationship…and there are liberal men out there who despite their hard wired traits, present themselves as just the sort of lesbians liberal women are looking for.
Putting it another way…
Masculinity and femininity a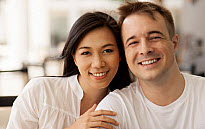 nd basically humanity's polar opposites…and as opposites attract…the differences are responsible for humanity's very survival. While there are "toxic" individuals who are genetically disposed to either masculinity or femininity, neither masculinity, nor femininity as a whole are toxic. Rather, they are necessary.
So why are liberals trying so hard to label masculinity as toxic…and why not femininity?
Simple…liberals are desperate to make women out to be inherently victims, and men out to be inherently, the villains. Liberals, as I have said many times, need victims as a voting bloc and where they can't find actual victims, they have no issue whatsoever in manufacturing them…but…in order to have victims, liberals must also manufacture victimizers. When an entire gender is deemed to be the victims, of whom only liberals can possibly save in return for their votes…it is the other gender which must therefore be deemed the victimizers.
The process is rather simple…start a false narrative…masculinity is toxic…identify the victims…women…and start brainwashing kids to believe the false narrative in an effort to reengineer social norms while ignoring scientific, inescapable truths.
Gillette is playing right into this now exposed charade. Don't think so? Then why is a razor

blade company…a company that makes products for adults…featuring so many young boys, who are at least a decade away from being their customers, in that ad? They want children who see that commercial to identify with, and believe that they don't have to grow up to be…men. Hence…brainwashing.
This is why liberals want everyone to believe there are more than two genders…and why they are trying so hard to cram that nonsense down our throats in that if we refuse to play make believe along with the liberals…we are to be scorned as some sort of bigots.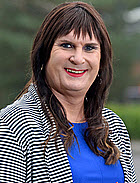 The fact is…men are men and women are women, and there is absolutely nothing anyone can do to change the reality of that. Sure…you can alter the packaging…but the DNA…the genetic code is what it is and that cannot be altered. Born a male…always a male. Born a female…always a female.
Anything else is just pretend at best, or a mental illness at worst.
So…now that you know the liberal political agenda pushing the nonsensical notion of "toxic masculinity," allow me to give you the hidden liberal agenda behind the whole thing…
Young liberal men who are still having their periods…and older liberal men who are going through menopause…need an excuse for their over-acted displays of emotions, and for their pretend claims of being offended by everything.
Straight liberal men see gay liberal men as the victims they can only wish they were…and in the effort to build a façade to cover their squishy feelings…they have to demonize what they are not…masculine.
After a couple of generations of brainwashing, today's liberal men have adopted the mental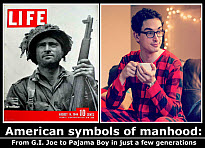 characteristics of 12 year old girls. They are emotional wrecks. They cry a lot. They throw tantrums and pitch fits…think they know EVERYTHING, and scream at a pitch that can shatter glass from 100 yards away.
Today's liberal men have no interest in being handsome, muscled, and driven, because men who qualify for masculinity in those respects are rarely, if ever, victims of anything and therefore can't justify the need for a nanny from cradle to grave.
Since today's liberal men have no idea how to be masculine, they need to find a way to make being masculine something of which to be ashamed…"toxic masculinity."
This is why you see liberal men marching through the streets wearing a pink pussy hat over their man buns…carrying on about Chardonnay…watching the Hallmark channel when they're at home alone, and asking their girlfriends and wives to open the new jar of mayonnaise for them.
Today's liberal men wouldn't have done very well in times of war, from the Revolution to the Buttcrackistan campaigns because the evil this country has faced has never been the ilk to get in touch with their feelings. Today's liberal men wouldn't have done well settling this great nation from sea to shining sea, because exploring new territories, overcoming the hardships and leaving the comforts of your old life behind weren't participation trophy events.
Chuck Yeager was the first to break the speed of sound, and he was able to do it because there wasn't a liberal man sitting next to him to "slow down…you're scaring me."
Just as the world has always needed the fairer sex…to create new life, temper the wild nature of those around them, to add balance to life and ask for directions…the world needs masculine men. Men who are willing to be bold, strong, protective and driven to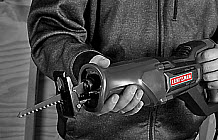 push their own boundaries and expand the horizons of others.
And when it comes to that mayonnaise jar…
A real man…a man's man…a MASCULINE man knows that if the lid is really, really stuck…he's got a Sawsall in the garage.
© Craig Andresen/thenationalpatriot.com 2019
*************************************************************************************************For more political commentary please visit my RIGHT SIDE PATRIOTS partner Diane Sori's blog The Patriot Factor to read her latest article New York's Descent Into Hell 
*************************************************************************************************
RIGHT SIDE PATRIOTS…LIVE!
Wednesday, January 30th from 7 to 8pm EST on American Political Radio,  a special  RIGHT SIDE PATRIOTS broadcast where Craig Andresen and Diane Sori discuss the newest developments regarding President Trump's push to build the wall.
Hope you can tune in at: http://listen.samcloud.com/w/73891/American-Political-Radio#history…or on Tune-In at: https://tunein.com/radio/American-Political-Radio-s273246/