By Craig Andresen – Right Side Patriots on American Political Radio
"It hurts my heart that this would happen to anyone who was just coming out to enjoy what should h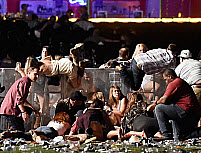 ave been a fun night."
That's what Jason Aldean had to say this morning in the wake of last night's Las Vegas massacre. Aldean was on stage, performing at the outdoor country music event when a coward, Stephen Paddock, opened fire with an automatic weapon from the 32nd floor of Mandalay Bay.
Coward, and mass murderer Paddock shot and killed himself before police were able to get inside his room, but not before taking the lives of at least 50 concert attendees, and wounding at least 200 others.
Numbers are expected to rise.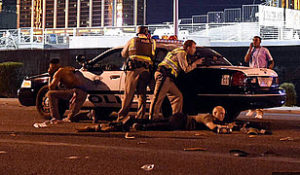 At this early hour of Monday morning, here's what we know…Paddock opened fire with some sort of automatic weapon from the window of his 32nd floor room at Mandalay Bay spraying hundreds upon hundreds of rounds into the crowd below.
According to investigators, "Paddock was known to local law enforcement and had a criminal past," although they have, at this point, provided no further details.
Cell phone video, and still photos captured the scene of panic as the concert goers began to realize what was happening.

A possible accomplice, Paddock's "roommate" Marilou Danley is being sought by Las Vegas police, and by the FBI for questioning.
Danley, reportedly, was found, taken into custody and was being questioned by law enforcement as of 7am Las Vegas time this morning.
The motive for what is now the largest mass murder in American history, is unknown,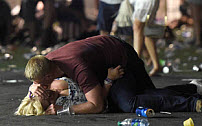 although early reports, before Paddock's Facebook page was removed, was that he was some sort of blatantly anti-Trump troll.
Here are a few other facts that should be known…
Las Vegas is a sanctuary city, although what effect that has on this horrific event is yet to be determined, if it had any effect at all…but…Mandalay Bay is a gun-free zone which means that concert was a target rich zone.
Such an event as this, on Paddock's part, took planning, and plenty of it. He selected the date to coincide with the large outdoor country music concert. He selected a 32nd floor room, high enough for two purposes…raining automatic weapon's fire into the crowd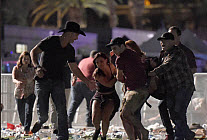 below, and to provide enough time to wreak maximum havoc, horror and terror on his victims before police could pinpoint his exact location and enter the room.
This was not an Islamic terror event. This was not some sort of wild conspiracy as some are prone to assert and it was not racial in motivation…at least not on the surface of it, although race or Islamic terror could well have played some obtuse part.
If indeed Paddock was a Trump hater, he could well have been, in some warped way, spurred into his horrific action by some combination of ANTIFA and/or BLM rhetoric of hatred toward Trump supporters and voters…which likely would have comprised the majority of the country music concert going crowd.

Early reports say ISIS has claimed responsibility for the Las Vegas attack, with the terrorist barbarians saying that Paddock had converted to Islam several months ago.That is yet to be determined or confirmed via investigations that are now under way.
Law enforcement also has said that Paddock had several automatic weapons in his room at Mandalay Bay…a room he had been in since last Thursday.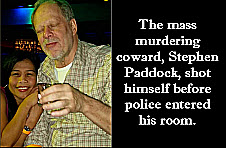 One more thing…this horrible, tragic event will be seized upon by liberals to demand more gun control…but fully automatic weapons, such as what was undoubtedly used last night in Las Vegas, are already illegal and no amount of gun control or bannings would have prevented what happened…such measures only ensure that the only people armed will be the ilk of Stephen Paddock.
And just as predicted top liberals, including Hillary Clinton, are not about to let a crisis go to waste. Read THAT sad yet transparent part of this tragic story here.
Country music performer Jake Owens had this to say this morning…"We put on concerts to take people away from the day-to-day life, to bring them to a happy place and this isn't by any means what's supposed to happen at these things. I think us, as a community, aren't going to let this bring us down either. We're going to continue to do what we do… because this isn't what our America is supposed to be like. We've got to fix this."
Copyright © 2017 Craig Andresen / thenationalpatriot.com
IMPORTANT NOTICE!!!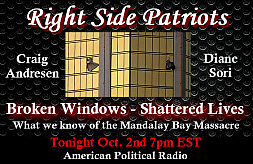 TONIGHT 7PM EST!!! A RIGHT SIDE PATRIOTS SPECIAL REPORT!!! Broken Windows – Shattered Lives What we know about the Mandalay Bay Massacre. Hope you can tune in at: http://listen.samcloud.com/w/73891/American-Political-Radio…