By Craig Andresen – Right Side Patriots on American Political Radio
Lou Dobbs, in a recently published piece, has rightfully pointed out that Barack Hussein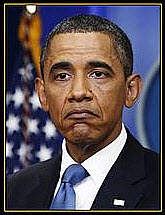 Obama…that would be private citizen Barack Hussein Obama, has been shadowing President Trump around the world…meeting with the same world leaders as President Trump.
Obviously, Obama is worried that his 8 long years of trying to make America as destitute as the rest of the world is in danger of being erased as Trump has set forth to Make America Great Again.
If it wasn't so sad…it would be funny…okay…it is funny.
Let's have a look at the travel itinerary shall we?
The America loving President Trump has met with the leaders of Britain and Italy.
The America hating citizen Obama has met with the leaders of Britain and Italy.
The America loving President Trump has met with Germany's Islam loving Angela Merkel.
The America hating Islam loving citizen Obama has met with Germany's Angela Merkel.
The America loving President Trump has met with Canada's socialist weasel Prime Minister Trudeau.
Socialist weasel citizen Obama has met with Canada's socialist weasel Prime Minister Trudeau.
The America loving President Trump has met with South Korea's Moon Jae-In.
The America hating citizen Obama met with South Korea's Moon Jae-In.
Recent and often shared reports that the America hating Obama was in Germany last week for the 2017, G-20 summit were fake, but one can certainly see from the above travel roster that it wouldn't have been even a little surprising had old "hope and change"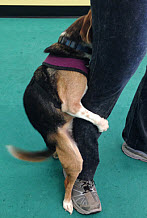 actually popped up out of a sewer in an effort to flush out Make America Great Again…but I'll get back to the G-20 in a moment.
Look…we've all been there…gone over to a friend's house where man's best friend, the recently neutered Barry the Beagle started making out with your shin like there was no tomorrow…right?
Well…
What we have now is Mr. Obama…having been recently neutered…following President Trump around like a horny puppy…dry humping the legs of world leaders the way Billy Clinton dry humps interns.
In fact, about the only two places of note where President Trump has gone, that Obama didn't also pop up have been first, in Saudi Arabia, where in 2016, Obama got a decidedly chilly reception after which, Mustafa Alani, a Gulf security analyst and close friend of the Saudi royals stated…"Obama found a leadership that's not ready to believe him. The Saudis had disagreements with previous presidents. Here you have deep distrust that the president won't deliver anything."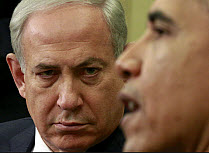 And second…In Israel…where had Obama tried to dry hump Prime Minister Netanyahu's shin, Bibi would have kicked the neutered mutt straight out the door.
For the record, President Trump got the full-on red carpet, highest level treatment from the Saudis and from the Israelis as well.
Okay…back to the G-20 summit…
While the reports of Obama surfacing from his own cesspool of despair at the G-20 in Germany last week were internet hoaxes that found life in the sharing of them by those too quick to do even the least bit of research…it is quite possible that the Islam loving, American hating dry humper sent his surrogate, NYC Mayor…socialist if not downright
commie and fellow hater of America and large sodas, Bill DeBlasio in his stead.
DeBla Bla was there to join hands with Antifa to protest western culture which would make him, Obama's dry humping surrogate, and if there's anything more irrelevant than a neutered mutt getting busy with someone's leg…it would have to be a pinch-hitter…or…pinch-humper.
While Obama was suffering from a major case of Trump envy, and while DeBlasio was getting his Antifa thug on in Munich last week, President Trump got busy letting the rest of the world know that America is back and scoring major points for our side.
At the G-20, President Trump got the leaders to acknowledge that he had every right to pull out of the Raccoon Lodge world club also known as the Paris Climate Accord…and he got the rest of the G-20ers to agree to his goal of having the U.S. "work closely with other countries to help them access and use fossil fuels more cleanly and efficiently."
That's huge, but it wasn't all there was to it either. President Trump also managed to get certain wording included in the official G-20 communique, for first time, underlining the right of countries to protect their markets with "legitimate trade defense instruments."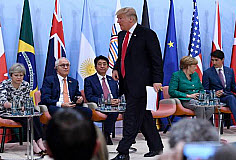 That means, that thanks to President Trump, the U.S. and the rest of the countries are now free to pursue what makes the most sense for the individuals countries rather than chasing after unicorns regarding climate change.
But President Trump was far from finished…
While also at the G-20 summit, President Trump sat down with Russia's Vladimir Putin for a summit within the summit…and the two, at Trump's urging, agreed to work together on a cease fire in Syria, and to work together to create a safe-zone in Syria for Syrian refugees…which isn't the end-all, be-all but it is a damn site better than Obama's plan of creating a safe-zone for Syrian refujihadis over here.
Certainly, there was fluff in the Trump/Putin meeting, with not everything proposed having a direct or immediate benefit for the U.S. but that really wasn't the reason for the meeting. The real gist of it was to reestablish a working relationship with Russia by laying the groundwork for things of greater importance and greater advantage for the U.S. and our allies down the road…something that Obama and/or Hillary were completely incapable of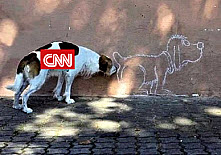 or simply refused to do.
Naturally, our mainstream media doesn't see it that way, because that doesn't further their agenda on behalf of Obama and the liberal/socialist swamp rats…but what is one to expect from those relegated to sniffing the collective butts of dry humping mongrels?
President Trump also strongly questioned Putin regarding election tampering, which the Russian leader just as strongly denied and given the mainstream media's inability to produce even a shred of evidence regarding their fabrication of supposed collusion between Trump and the Russians…I would tend to believe Putin over CNN.
President Trump did, however, come away from that meeting with irrefutable proof that Vladimir Putin is directly tied to Russia.
The fact of the matter is this…at the onset of his presidency, Obama undertook a world apology tour, demeaning the United States and sucking around for pathetic sympathy by saying he was sorry we were so great. Now, as Obama is at the onset of his post-apocalyptic presidency, he has set about touring the world pretending that he's still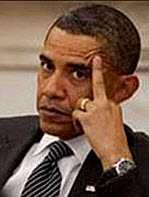 relevant.
The problem for the nutless wonder of a humping hound is that the only people who thought he was relevant during his presidency, and those who still feel that way, were and are those who hate America as much as he does…and that our enemies, and the enemies of freedom and democracy are still more than willing to extend their legs for his own self-aggrandizement.
But it could well be much more serious than one would think. If it ever comes to light that the dry humping dog is discussing foreign policy with any of the world leaders he's been meeting with since being neutered, a prime case for sedition could easily be made.
While Obama busies himself wearing a hole in the trouser legs of the European Union, President Trump is busy bringing back manufacturing jobs, increasing consumer confidence, and he's rebuilding a business atmosphere where small businesses once again feel free to grow and hire which has reinvigorated those who over the past 8 years dropped out of the workforce to reenter the jobs market.
President Trump is busy making America safer, by fighting for the same travel ban Obama put in place, no questions asked, cracking down on the sanctuary cities Obama created, standing up for our veterans upon whom Obama turned his back and once again extending our nation's hand in friendship to our allies around the world of whom Obama stabbed in the back.
And as for the illegal aliens to whom Obama sent engraved invitations and gift baskets of American taxpayer paid for goodies? President Trump is sending them one way tickets back to wherever they came from with the promise…come back again…and you'll be spending time in our prisons.
Of course, President Trump did say we would probably win so much, we'd get tired of winning, but so far, I say the more winning the better.
As for Obama…he's as pleased with himself as a dog with two peckers, even though being neutered as he is, there's no way for him to seal the deal.
Go ahead Merkel…shake a leg…Barry's just happy to see ya.
Copyright © 2017 Craig Andresen / thenationalpatriot.com
REMINDER!!!
RIGHT SIDE PATRIOTS…LIVE!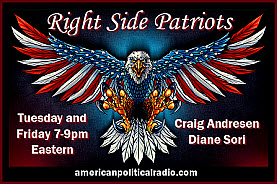 Today, July 11th, from 7 to 9pm EST on American Political Radio, RIGHT SIDE PATRIOTS Craig Andresen and Diane Sori discuss Linda Sarsour's call to jihad against President Trump, Obama's latest world tour, and important news of the day.
Hope you can tune in at: https://americanpoliticalradio.com/listenlive