By Craig Andresen Right Side Patriots http://www.americanpbn.com/
Yesterday, in "Trump – Unfit to Serve…Part 1 of 2" I outlined several recent events and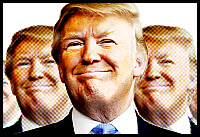 Donald Trump's reactions to them while also touching upon Trump's more generally known characteristics of being narcissistic, arrogant and demeaning.
But to really, truly grasp the inner workings of Donald Trump's mindset, which is more psychosis than mindset, we most look at other character traits he possesses.
While Trump's followers applaud these traits, and excuse them as being not politically correct, others don't care for his behavioral traits, are annoyed by them, or are repulsed by them. It has been well-known for some time that Trump's unfavorable ratings were quite high but just a couple of days ago, new polling suggests that his unfavorable ratings have now reached 70% which is historically, a record high since this data has been compiled dating back to 1992.
Before I provide some of Trump's more basic characteristics, it should also be noted that although Trump is currently the front runner in the 2016 Republican race, his numbers are the lowest since 1980 which, as you will soon see, plays a vital role in his behavior.
Everybody, it seems, has an opinion of Donald Trump, and like him or dislike him…his basic traits are the linchpin which guides all of our feelings toward him.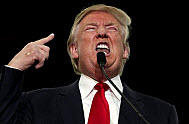 Donald Trump has an insatiable drive for power as exhibited in his professional life. When Trump wants something, he gets it and with every acquisition he, either in reality or in his own mind, increases his power.
Trump is insecure. Most of his followers will, no doubt, disagree with this assessment, but it's true and he has exhibited his insecurities. For instance, years ago, a writer for the New Yorker, commented on what he perceived to be Trump's small hands. Trump was angered by this and for many years, has actually sent that reporter pictures OF his hands. When Marco Rubio joked about Trump's small hands…Trump started proclaiming that everybody he meets tells him how strong and normal his hands are and that meltdown culminated in a debate where, without so much as a question being asked, Donald Trump launched into a statement, not only regarding his hands, but the size of his personal anatomy as well.
Trump enjoys his own unpredictability and along those lines, he can often take differing stands on the same issue in rather short order. He's for something…an hour later, he's against it, an hour after that, he has yet another position and days after, yet more differing positions all on the exact same issue.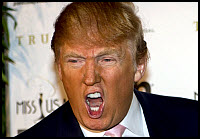 Donald Trump is an uninhibited ham actor which one supposes comes with the territory of being a reality TV star. Trump loves to see himself when he is the center of attention and to him, all the world is a stage.
Trump has the unusual ability to project the force of his own powerful personality, and this evident in the way his followers react to every word Trump utters. If Trump is belligerent, so too are his followers. If Trump is subdued, so too are his followers. If Trump says or tweets something, even things that are baseless and have no facts to back them up…his followers, immediately, convinced that Trump is never wrong, pass along his words or tweets via social media making them as close to viral as possible.
Donald Trump is immoderately sensitive to slights—real or imagined, direct or inferred—to himself, his political viewpoints and/or agenda. The hands situation aside…how many times have we all heard Trump whining about the system being unfair towards him, or hostile toward a journalist, who has presented facts divergent with Trump's statements ,and Trump call the journalist a moron, unworthy of being in his presence or…a bimbo? It happens nearly every day.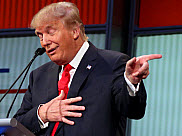 While Politifact has shown that 91% of everything Trump has claimed on the campaign trail has been lies, Trump himself, in his own eyes, is no doubt unusually honest. "Believe me…believe me" is Trump's most oft repeated line as he implores the world to believe him even when there are no facts, no substance and no plan articulated to believe his claims.
Trump has a temper and often throws tantrums. Temper isn't a bad thing necessarily so long as it is controlled, but throwing tantrums, as Trump does so often, shows a definite lack of control.
Donald Trump shows, over and over again, that he truly needs recognition and adulation of the masses.  "Everybody loves me," "I get along with everybody." "My crowds at my rallies are bigger than anybody else's." These and so many more quotes from Trump are uttered daily, if not every hour on the hour.
Trump promotes his desire to rebel and he always has a handy adversary to call out in any situation. Trump also has an articulated desire to extend his personal power by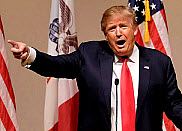 overthrowing existing authority. He has acted on this desire over and over again in the private sector via business takeovers and his followers are giddy at the prospect of him doing it on the political stage.
Whenever Donald Trump's self-concept is slightly disrupted by criticism, he becomes so emotionally unstable as to lose to some degree his contact with reality, which is evident in his late night Twitter tantrums…often posting nonsense and/or baseless claims and allegations.
Under severe stress, Trump is often subject to bizarre behavior when his judgment may be faulty. It's the same sort of reactions many people have when going through a mid-life crisis. As just an example, Trump has had one trophy wife after another and as per his quote… "You know, it really doesn`t matter what (the media) write as long as you`ve got a young and beautiful piece of ass."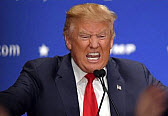 And finally, bringing us back to where this started, Donald Trump's pursuit of power for himself, and he claims, for America, is boundless. In fact, in Trump's mind, his own destiny and that of our nation are one and indistinguishable. Trump believes that money is power and if he is the wealthiest candidate, he is the most powerful candidate. Trump also seems to believe his personal wealth, resulting in his personal power, translates into national power.
As I said, like them or not, there are Donald Trump's personal behavioral and character traits but I caution you, these traits are not his and his alone.
All of the personal traits I have outlined above, each one being directly attributable to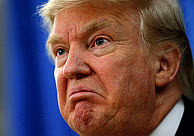 Donald Trump, are also the individual character traits of…Hitler, Castro, Saddam Hussein, Gaddafi, Nikita Khrushchev and Ho Chi Minh…some of history's most oppressive and dangerous dictators and is outlined in this article which draws its research directly from CIA reports. What is truly stunning about this, is the fact that while these character traits are culled bit by bit from each dictator mentioned…they are all present in Donald Trump.
This should come as no surprise, as in his business empire, Donald Trump is a dictator. It's his way or the highway and when Trump issues orders, he is surrounded by people who either carry them out or they're gone. While this may well be the key to whatever success Trump has in the world of business, it's a disastrous recipe for a would-be president of a Constitutional Republic and the leader of the free world.
From the board room, Trump can order up a high rise office building by snapping his fingers, picking up his phone and getting out his mighty pen. Isn't that exactly what we
have in the Oval Office today? A narcissist so arrogant and drunk with power that he resorts to his pen and his phone when nobody jumps as he snaps his fingers? While Trump's followers don't see it or won't admit it, the rest of us see it clearly and do we really want another knee-jerk reactionary at the helm?
Consider some of Trump's recent policy projections…allowing the spread of nuclear proliferation…writing a "better deal" with the likes of Iran…advocating the possible use of tactical nuclear weapons in Europe…neutrality between our ally Israel and the Islamic terrorists of the Palestinian Authority…45% tariffs that would initiate a trade war…advocating for universal, single payer healthcare…basic isolationism…ordering our military to commit war crimes and insisting that if he orders it, they will do it…the dire list goes on and on.
And what happens when the dictator isn't happy?
Trump won't dirty his hands personally, but he has advocated violence, offered to pay legal fees for those who do engage in violence on his behalf, he stood up for his thuggi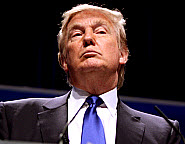 sh campaign director and issued threats against his rival, Ted Cruz and Cruz's wife, Heidi but that's not all. One of Trump's under the radar henchmen, and make no mistake…every dictator has under the radar henchmen, Roger Stone threatened delegates heading to the convention in Cleveland, that should they not do as the dictator wants, he'll see to it that Trump's followers descend on the delegates hotel rooms to intimidate them into voting his way.
Empty threat?
Not by a long shot, as just days after the Colorado Caucus, Trump's "followers" have been releasing and posting the personal information of Colorado's GOP Members which has resulted in more than 3,000 phone calls and death threats to the Head of the Colorado GOP, Steve House.
This is what dictators and their followers do, but let's get back to something else that highlights yet another part of Trump's psychosis…his constant need to over-inflate his own ego…another trait shared by dictators.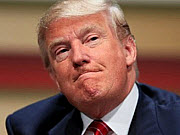 How many times have we all heard Donald Trump exclaim that he has millions of more votes than Cruz or that he has hundreds of more delegates than Cruz? Every day we hear this from Trump and while he does have more votes and delegates, there is another side of this ego boost he won't tell us…but I will.
Throughout this 2016 race, the Republican field has been split…in the beginning, by 17 candidates all garnering votes and some garnering delegates. While that large field is now down to 3, there are some facts that need to be brought out.
As things stand right now...Donald Trump, as the front runner, has the lowest vote count total of any Republican front runner since 1980 and the lowest delegate count of any Republican front runner since 1980. How many times has he called Mitt Romney or John McCain a loser? At this point in their respective campaigns, both Romney and McCain had higher vote and delegate totals than Trump does today and neither had anywhere near the 70% disapproval rating that is Trump's and Trump's alone.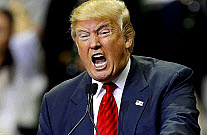 A few last characteristics of dictators that are all too relevant to Donald Trump are that when things don't go their way, as things are falling apart, they always assess blame at anyone or anything other than themselves. Donald Trump has blamed every primary or caucus loss on Cruz, the establishment the GOP, what he has called "stupid" voters, voter fraud (which has been debunked time after baseless time) or dirty tricks that he claims resulted it an election being "stolen" from him.
There is also the mentality of a common dictator that they are above the rules and above the law because they are more special than the people of their countries. In other words, based upon what we've seen of Trump during this campaign…the buck will never stop with Trump, should he somehow become the president, and the laws by which we must all abide, will not apply to him.
Finally…when the end of their time on the political stage is at hand, dictators attempt to employ a scorched earth policy without regard to their respective nations.  When asked what would happen if he failed to win the nomination, Trump responded… "I'm representing a tremendous many, many millions of people. I think you'd have riots. I think you'd have riots."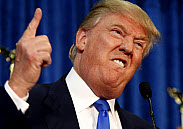 Tuesday afternoon, in a speech from Rome, New York, Donald Trump's dictatorial characteristics were again on full display as he continued to cry foul over Colorado's caucus system, blamed the GOP, the establishment and Ted Cruz for "rigging" the system and demanded it not be allowed…all the while knowing that he knew the rules well in advance and did absolutely nothing to campaign in Colorado much less try to secure a single delegate there. Trump was in meltdown mode, full-on narcissistic, arrogantly repeating untruths, lies and propaganda to any follower he could find knowing all the while that they would take his lies as the gospel according to Trump and spread his propaganda far and wide.
I cannot make the case against Donald Trump getting the Republican nomination or becoming the president more clear, nor can I make the case for him having a myriad of behavioral characteristics of the worst dictators humanity has ever seen more clear…and both are crystal clear, than with this 2 part report and these articles should serve as both the "oh my God" and "holy crap" moments for any voter who is, at this point, undecided or has their eyes wide open.
There is, however, an answer.
We, as true Conservatives and true Patriots, must do everything we can to see to it that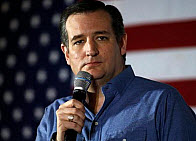 Donald Trump does not win the nomination. Ted Cruz, the only Constitutional Conservative in this race is our answer and we must secure, through the remaining primaries, enough delegates to stop Trump from winning the Republican nomination by making our convention go contested where Cruz can and will win in the 2nd or third round of voting.
I have no great love of the elites within the GOP and I would like our party to return to its Conservative and Constitutional roots but Trump doesn't just want to crush the party as we know it, he also wants to crush the Republic our founders and framers entrusted to us and though I care little as to the fate of what has become the GOP over the years…I'll be damned if I won't fight like hell to keep a would-be dictator, like Do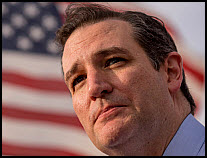 nald J. Trump, as far away from the Oval Office as possible because our nation, and the world, deserve a Constitutional and Conservative president and leader,
Ted Cruz is that president and leader, while Trump would be nothing but an arrogant, narcissistic dictator to whom  the laws would not apply and to whom the people would not matter.
It's who Trump is…it's ingrained in his personality…and it would lead to disaster.