BREAKING NEWS!!!
THIS JUST IN!!!
ROBIN WILLIAMS IS STILL DEAD yet despite the fact that he is, indeed, dead and has remained so for nearly 24 hours…
Our national debt has not dropped and remains in the $18 TRILLION dollar neighborhood…
Lois Lerner's emails have yet to be found…
There has been NO justice for Ambassador Stevens, Sean Smith, Glen Doherty or Tyrone Woods…
All manner of ILLEGAL ALIENS, some carrying infectious diseases are STILL pouring across our border and for that matter…so too are terrorists from barbaric Muslim countries.
WE NOW INTERRUPT THIS BREAKING NEWS REGARDING THE CONTINUED DEATH OF ROBIN WILLIAMS WITH MORE BREAKING NEWS REGARDING THE SUSTAINED DEATH OF ROBIN WILLIAMS…
Robin Williams remains, at this hour, dead…however…
While Williams' condition has not improved since yesterday afternoon…in far, FAR less important news…
Our economy sucks…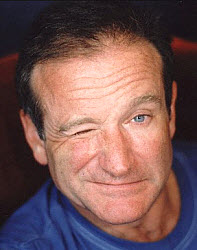 The EPA is killing the coal industry while continuing to prevent any and all attempts at achieving energy independence…
Obamacare is sucking the system…not to mention our personal finances dry…
Workers are still dropping out of the system…
Nancy Pelosi is still batcrap insane and there are STILL more than 350 bills that would help the economy and jobs situation sitting on Harry Reid's desk, gathering dust because he refuses to bring any of them to the floor of the senate for a vote.
WAIT, HANG ON, I'M GETTING AN UPDATE FROM THE 24 HOUR ROBIN WILLIAMS NEWS CYCLE…
YES…YES…okay, I understand…LADIES AND GENTLEMEN…ROBIN WILLIAMS, IT SEEMS, IS NOT GETTING ANY BETTER AND HIS CONDITION IS STILL LISTED AS…dead.
Meanwhile…just to break up our continuing coverage of the ongoing death of Robin Williams…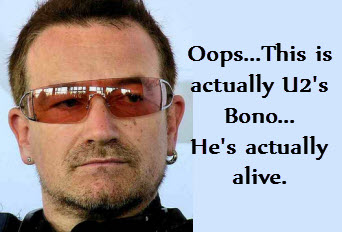 Obama is, for the moment, still on vacation…more on that shortly…
In Iraq, there are still some 40,000 people trapped on a mountain top by barbarians with a 7th century mentality who, at lower altitudes, continue to behead Christians and any others who don't subscribe to their Islamic ideology…
Iran is still working to build a nuclear weapon…
Hamas continues to use human shields to protect their missiles while Israel continues to use missiles to protect her people…
The Obama designed caliphate in the Middle East continues to grow despite his having bombed a few trucks for political reasons…
Deerborn Michigan remains in the hands of the burqa brigade and Detroit remains strangled by liberal policies that have d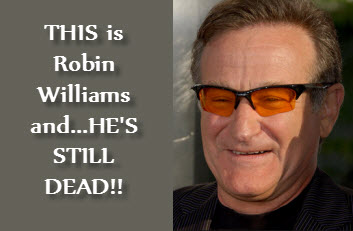 riven the Motor City into bankruptcy and…getting back to the Obama vacation…the dictator is scheduled to return to the White House on August 17th to use his pen, we believe, to enact amnesty in a direct violation of the separation of powers set forth in our Constitution.
We are sorry to keep interrupting our coverage of the fact that Robin Williams is still dead…and he is…still dead but…
WE APOLOGIZE FOR BREAKING INTO OUR BREAKING NEWS BUT, WE HAVE A BREAKING STATEMENT FROM BARACK HUSSEIN OBAMA…STAND BY…
"Robin Williams was an airman, a doctor, a genie, a nanny, a president, a professor, a bangarang Peter Pan, and everything in between. But he was one of a kind. He arrived in our lives as an alien – but he ended up touching every element of the human spirit," Obama said in a statement, referring to Williams' role in "Mork & Mindy."
"He made us laugh. He made us cry. He gave his immeasurable talent freely and generously to those who needed it most — from our troops stationed abroad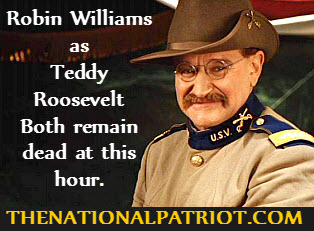 to the marginalized on our own streets. The Obama family offers our condolences to Robin's family, his friends, and everyone who found their voice and their verse thanks to Robin Williams."
As we end this breaking news update, I would like to leave you with a simple question…
As Iran, Hezbollah, Hamas, al-Qaeda, ISIS, the Taliban, Boko Haram and other Islamic terrorist barbarians are hell bent on genocide and wiping Israel from the map and killing every Jew on a global basis…why is it exactly that the only Jew to gain the sympathy of Obama is the one who hanged HIMSELF yesterday?
THIS JUST IN…ROBIN WILLIAMS IS STILL DEAD!!!
We now return you to your regularly scheduled Robin Williams news being brought to you by every news outlet in America.