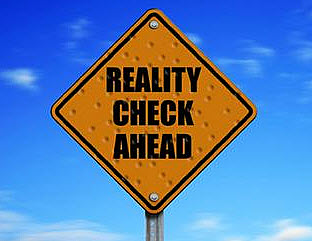 Jumping the shark is the term used in show business when any particular series, movie or television, has gone past the point of no return with something so inane and ridiculous that people, even their die-hard fans, simply give up and stop watching.
It originated when Fonzie used water skis to jump over a tank with a live shark swimming in it and basically, that was the end of any interest in Happy Days.
The Obama regime has, officially, jumped the shark.
All but the completely Kool Aid soaked liberal/socialists and progressives, those so overtly inebriated on the juice that they can no longer utter a three word sentence, are now asking themselves…What in THE HELL???
Folks, you cannot make this stuff up. They actually said these things and there is no turning back because…they actually MEANT to say these things.
First…let's lend an ear or an eye to the shark-jumping words of one Hillary Clinton…
Oh my goodness…Oh no she didn't…OH, YES SHE DID!!!
"Hamas puts its missiles, its rockets in civilian areas; part of it is because Gaza is pretty small and it's densely populated."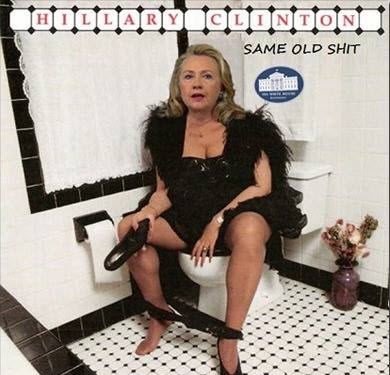 Hamas, the terrorist organization, puts their rockets in civilian areas because…"GAZA IS PRETTY SMALL???"  Are you KIDDING ME??? How on earth could the "smartest" woman ON earth be SO damn BUTT STUPID???
Gaza may not be the biggest place on the planet but, when compared to the intellect of Hillary "WHAT DIFFERENCE, AT THIS POINT, DOES IT MAKE?" Clinton…it is as big as all outdoors.
Absolutely stunning isn't it?
By the way Hillary, your subpoena for Benghazi is in the mail.
Next up on our hit parade is none other than Nancy "You'll have to pass the bill to find out what's in it" Pelosi.
Oh…It's been a banner last couple of weeks for the left coast Botox queen.  To say the least, Pelosi's blatherings have been EPIC of late…BIBLICALLY epic to be precise.
There she was, talking about the illegal alien invasion of kids when she suddenly decided to invoke the name of…JESUS…and stated,  "I reference the conference of bishops' statement in which they say baby Jesus was a refugee from violence. Let us not turn away these children and send them back into a burning building. That's the bishops, so we have to do this in a way that honors our values but also pr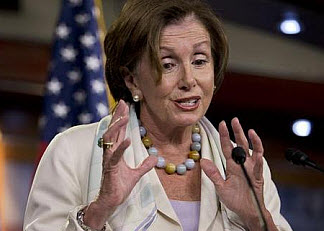 otects our border and does so in a way that the American people understand more clearly."
Ummm…listen here you moonbat…Jesus, Mary and Joseph DID head for Egypt after the birth BUT…they ALSO returned to their HOME COUNTRY after that and trust me when I tell you that HOME was still just as dangerous THEN as it is TODAY but…just a couple of days later…after having time to THINK about what she had said…Pelosi, again talking about the ILLEGAL ALIEN invasion had THIS to say…
"These are children coming over the border. They are children. What would we do if Moses had not been accepted by the Pharaoh's family. We would not have the Ten Commandments for starters. You understand my point, historically we have a challenge and we have examples of humanitarian assistance that should guide us."
Oh, Lord help me…Moses was actually raised by the very people, in the very land from which SHE seems to think he FLED as a REFUGE and if we apply the story of MOSES to the ILLEGAL ALIEN kids…THEY WOULD BE BACK AT HOME RIGHT NOW…WHEREVER HOME IS…BEING RAISED BY THE VERY PEOPLE THEY CLAIM TO BE FLEEING FROM and frankly…I'm all FOR that!!!
And lest you think the liberal/socialist lipstick wearing sow was finished making a total fool of herself and her party…think again.

Not satisfied with biblical name dropping, Pelosi decided to lend HER immense intellect to the biblical land of ISRAEL and yes, she actually said… "And we have to confer with the Qataris, who have told me over and over again that Hamas is a humanitarian organization. Maybe they could use their influence to–"
Nancy…get out of the vat of Kool Aid and SNAP OUT OF IT!!!
Hamas is NOT a "HUMANITARIAN" organization…THEY ARE A BUNCH OF DAMN TERRORIST BARBARIANS WHOSE CHARTER CALLS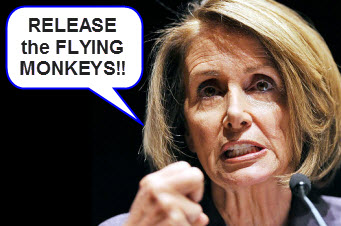 FOR THE MURDER OF ALL JEWS ON A GLOBAL SCALE AND THE COMPLETE AND UTTER DESTRUCTION OF ISRAEL!!!
"Maybe they could use their influence to-" what? YOU ASS HAT…THEY ARE USING THEIR INFLUENCE…AND THEIR ROCKETS…AND THEIR SUICIDE BOMBERS…AND THEIR HUMAN SHIELDS…MEN, WOMEN AND CHILDREN…TO MAKE GOOD ON THE PROMISES IN THEIR CHARTER AND MURDER EVERY LAST JEW!!!
What exactly does she expect to hear, over and over again, from the Qataris…THEY'RE A TERRORIST HARBORING, TERRORIST SPONSORING NATION for the love of Jesus, Mary, Joseph and Moses but I do have a challenge for she whose last marble just rolled out the door…PLEASE name for us all…just ONE…HUMANITARIAN organization OTHER than Hamas that has GENOCIDE written into its Mission Statement.
UNICEF? Doctors Without Borders?? The Peace Corps? Red Cross?
Gee whiz…even as anti-Semitic as JIMMY CARTER is…not even HABITAT FOR HUMANITY wants to KILL anybody.
Just keep on talking Pelosi…every utterance is helping a Conservative get elected.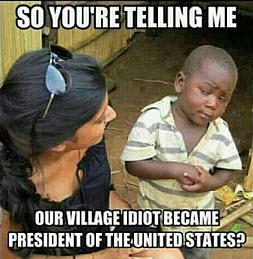 And finally…we come to the big Mullah…BARACK…HUSSEIN…OBAMA who just couldn't be left out of "Liberals, socialists, communists and progressives say the dumbest things."
"Eid-al-Fitr" is a Muslim holiday marking the end of Rahm Emanueladan or something like that…ram-a-lam-a-ding-dong…Ramadan…yeah, that's it.
Anyway, to mark the end of whatever it is…HUSSEIN Obama released THIS insipid statement:
"In the United States, Eid also reminds us of the many achievements and contributions of Muslim Americans to building the very fabric of our nation and strengthening the core of our democracy. That is why we stand with people of all faiths, here at home and around the world, to protect and advance their rights to prosper, and we welcome their commitment to giving back to their communities."
HOLY CRAP and I mean that as HOLY crap not…ALLAHU AKBAR KABOOM crap…"the many achievements and contributions of Muslim Americans to building the very fabric of our nation and strengthening the core of our democracy???"
NAME ONE!!!
Name ONE single thing the MUSLIMS have done to CONTRIBUTE to the BUILDING of the FABRIC of our nation. They have bombed our towers, killed thousands of our people, turned Deerborn Michigan into the MECCA OF MICHIGANISTAN, st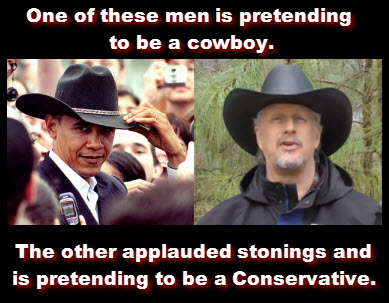 arted up "humanitarian" organizations to act as FRONTS for TERRORIST ORGANIZATIONS to collect money used to send terrorist children to terrorist school where they can learn how to kill others in the name of ALLAH, the god of pedophilia and ONE of them is now OCCUPYING the OVAL OFFICE releasing INSIPID EID-al-FIT (buy a damn vowel)R statements to the public!!!
As ludicrous is this all is…EQUALLY as ludicrous are those who CLAIM to be on OUR side…CLAIM to be CONSERVATIVES who stand on a stage at Gettysburg…on the 4th of July, and call for the STONING OF AMERICAN CITIZENS…OR STAND THERE IN A COWBOY HAT…APPLAUDING THOSE WHO DEMAND IT because THEY think GAY people are the biggest threat to our nation.
I'm telling you…I fail to see the difference between the latter and the aforementioned, highlighted morons in this article.
Absolutely, bone-crushingly, mindless buffoons all.