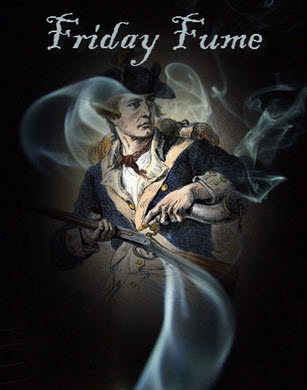 In a week that just defies common sense and DEFINES liberal nonsense…We find THIS little gem.
YOUR government is spending $10 MILLION DOLLARS of YOUR money to build…ROBOTS…that will…good God…"ACT AS PERSONAL TRAINERS…FOR CHILDREN…TO INFLUENCE THEIR BEHAVIOR …AND EATING HABITS!!!"
According to Yale University…an asylum of higher indoctrination… 'Robots Helping Kids,' will ultimately "deploy" robots into homes and schools to teach English as a second language, and encourage kids to exercise.
Says nerd Brian Scassellati of the asylum, "What we want to do is move these robots out of the laboratory and into schools and homes and clinics, places where we can directly help children on a day-to-day basis. Just like a good personal trainer, we want the robots to be able to guide the child toward a behavior that we desire."
So…it takes a village to raise a child huh? Now it's gonna take ROBOTS to raise a VILLAGE of IDIOTS but that's exactly what liberals want, and as if dumbing down kids wasn't bad enough…NOW they're going to start turning out MIND-NUMBED CHILDREN by letting MIND-NUMBED ROBOTS TEACH THEM HOW TO BEHAVE!!!
Patriots and friends…It's FRIDAY and…
I'm fuming.
When it comes to border security…do you think that maybe…JUST MAYBE…the Obama regime has their priorities a little SCREWED UP???
Just MAYBE???
While tens of THOUSANDS of ILLEGAL ALIEN minors…INCLUDING GANG MEMBERS…pour across our southern border and get everything from FREE TRANSPORTATION to states and cities from sea to shining sea to A FREE EDUCATION without so much as a second glance…
A troop of two dozen BOY SCOUTS from IOWA had a somewhat DIFFERENT experience last week as they traveled from Canada into ALASKA!!!
That's when one of the Scouts took a photo of the border station upon which…
U.S. BORDER AGENTS STOPPED THEIR VAN…DEMANDED THE CAMERA AND…HELD THE BOY SCOUTS AND THEIR SCOUT MASTER…FOR FOUR HOURS…
AT GUNPOINT!!!!!
The scout who may now never get a merit badge in PHOTOGRAPHING IDIOTS but IS up for one in BEING HELD AS A HOSTAGE OF THE OBAMA REGIME…was THREATENED with ARREST and 10 YEARS IN A FEDERAL PRISON for taking the photo.
According to the Scout Master of Troop 111, Jim Fox…"The agent immediately confiscated his camera, informed him he would be arrested, fined possibly $10,000 and 10 years in prison."
Then, Fox said, it got worse.
"He hears a snap of a holster, turns around, and here's this agent, both hands on a loaded pistol, pointing at the young man's head."
Now, I KNOW it seems absurd that the regime would allow ILLEGAL ALIENS into our country by the umpteen millions but won't let two dozen BOY SCOUTS into ALASKA, but you're just not looking at this from the regime's perspective.
They were wearing UNIFORMS. They had AMERICAN FLAGS on them. THEY WERE ARMED TO THE TEETH with pocket knives. They had tents, sleeping bags, cook stoves and…most likely…marshmallows. They had a LEADER. They are self-reliant and self-sufficient. They claim to be always ready.
My GOD…there ARE reports out there that these people HAVE, at various times, PLACED THEIR HANDS OVER THEIR HEARTS AND RECITED THE PLEDGE OF ALLEGIANCE, and they've been known to help little old ladies ACROSS THE STREET!!!
Obviously, to the regime, THESE are the VERY people the Southern Poverty Law Center for the Advancement of Socialism and Communism  was TALKING about last when they issued a report stating…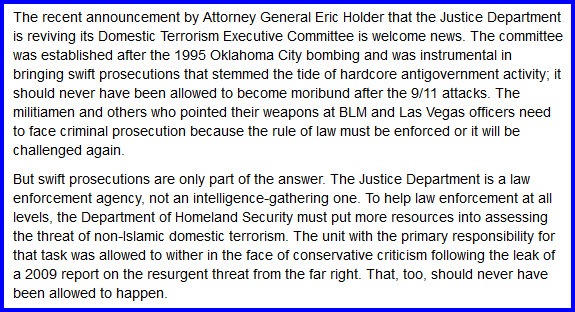 You see…to the regime…those weren't BOY SCOUTS on a CAMPING trip…THAT WAS A PATRIOTIC…PARAMILITARY…CONSERVATIVE MILITIA…TRYING TO REGISTER ALASKAN MOOSE…AS REPUBLICANS!!!!!
Damn good thing it wasn't GIRL scouts selling COOKIES or, on top of everything else, they would have ALSO been considered…CAPITALISTS!!!!!
Fuming.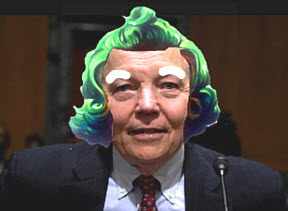 Elijah Cummings…the ranking liberal/socialist on the House Oversight Committee…the same Elijah Cummings who has been shown to have been involved in the IRS targeting scandal by suggesting to Lois 'I Lost My Emails and Plead the 5th' Lerner groups to target…sent a letter to Committee Chair Darrell Issa last Monday in which he begged Issa NOT to call IRS Oompa Loompa, John Koskinen, back for another round of questioning.
"Requiring Commissioner Koskinen to testify again this week not only takes him away from the day-to-day duties of operating an agency with 90,000 employees, but it also diverts our Committee from conducting responsible oversight on many key areas that traditionally have been part of our jurisdiction."
He then claimed that having the Oompa Loompa hauled in again was equal to the, "public harassment of an agency head."
Using THE most powerful electron microscope EVER created…we can now finally see the intelligence of the elected liberal/socialist…It's just FINE and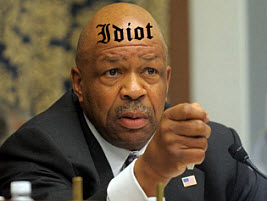 DANDY for a strong arm agency of the Dictator's puppets to act unconstitutionally in HARASSING THE PUBLIC but…HARASSING THE HEAD OF THAT GOON SQUAD BY TRYING TO PRY THE TRUTH OUT OF HIM well…THAT takes HIM away from…THE FURTHER HARASSING OF THE PUBLIC, and we can't have that!!!
I GUARANTEE you that were a REPUBLICAN president using the IRS GESTAPO to target LIBERALS…that fat, bald little weasel, Cummings, would be DEMANDING the committee BOIL THE COMMISSIONER IN OIL until he tells the truth!!!
Cummings needs to sit down and SHUT UP while the OMMPA LOOMPA needs to SIT DOW AND START TELLING THE TRUTH!!!
I'M FUMING.
And finally…
There he was…PASTY THE CLOWN…Joe Biden, in Las Vegas giving a speech at the NAACP (the National Association for the Advancement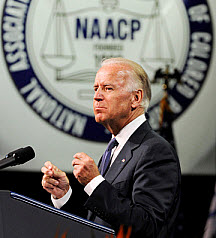 of COMMUNIST POLITICS) convention…trying to rile up the colored people and convince them that VOTER ID's are nothing but a RACIST ATTEMPT by conservatives to KEEP THEM FROM VOTING AT ALL!!!
Pasty cited 83 attempts in 29 states to implement voter ID laws and/or end early voting and called them a "HAILSTORM OF MEASURES MEANT TO RESTRICT CITIZENS ABILITY TO VOTE!!"
Then the Vice Puppet uttered, "These moves to limit the right to vote are nothing more than pure politics, masquerading as attempts to combat corruption where there is none."
Let me take these absurd statements one at a time.
First of all…according to liberal/socialist knotheads…minorities have trouble GETTING an ID and therefore, requiring an ID to VOTE is deemed, by them, to be RACIST!!!
Ummmmm…really? Minorities, apparently, because they ARE minorities and have a darker skin color than do the rest of us…can't obtain an ID??? Because…they have darker skin??? REALLY??? That may well be one of the DUMBEST things I've heard of.
Are minorities able to get a driver's license? Of course they can, and on the off chance they can't…IT'S BECAUSE AS INDIVIDUALS…THEY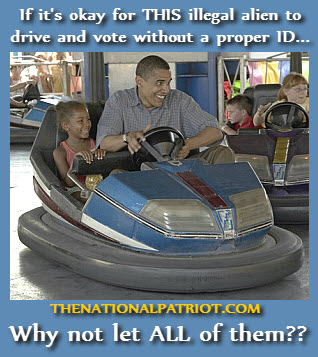 NEVER LEARNED HOW TO DRIVE but it has nothing whatsoever to do with the color of their skin.
Can minorities get from one place to another or does their skin color somehow make THAT impossible too? If they CAN get from point A to point B then they CAN get an ID whether or not they know how to drive and, in most states trying to IMPLEMENT voter ID's…THE STATE WILL COME TO THEM IF THE SKIN COLOR FORCE FIELD OUTSIDE THEIR HOMES IS PREVENTING THEM FROM LEAVING THE PROPERTY so what's the damn ISSUE???
And how exactly can being required to have a voter ID be RACIST if EVERYBODY…REGARDLESS OF THEIR SKIN COLOR…IS REQUIRED TO HAVE ONE if they want to vote? That's not RACIST…THAT'S APPLYING THE LAW EVENLY REGARDLESS OF RACE which is completely UNLIKE…AFFIRMATIVE ACTION which only benefits those of a CERTAIN RACE!!!!!
Now then…on the topic of Biden's and the liberal/socialists notion that stopping EARLY VOTING is racist…
Help me out…it sure seems to me that what Pasty the Clown is saying here is that…for some reason…minorities, because of the color of their skin…NEED TWO WEEKS OR MORE…JUST TO CAST A BALLOT???
Is he saying that WHITE PEOPLE, by virtue of THEIR skin color…have some God-given ability to vote ON ELECTION DAY while BLACK PEOPLE…for some reason regarding the color of THEIR skin…are genetically apt to GET SO DISTRACTED on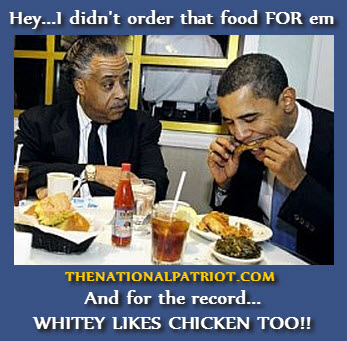 their way to the polls THAT THEY NEED…BY LAW…UP TO AN EXTRA MONTH JUST TO WANDER INTO THE PLACE???
Seriously…WHAT THE HELL???
I'll tell you something…if I were black or any other minority…I'd be SO PISSED BEYOND BELIEF that the party most of MY people have voted for over the last 70 years THINKS I'M SOOOO BUTT STUPID THAT I NEED 30 DAYS TO CAST MY VOTE…JUST BECAUSE…I'M BLACK…that I'd change MY vote to REPUBLICAN!!!
Of course, that's NOT what the liberal/socialists are saying and that's NOT what has Biden's SCOOBY DOO UNDEROOS all bunched up in his crack.
What THEY'RE wetting THEIR panties over is that…GIVEN 30 DAYS TO VOTE…AND GIVEN THE PROCLIVITY OF LIBERAL/SOCIALISTS TO VOTE MULTIPLE TIMES PER ELECTION…PUTTING A STOP TO EARLY VOTING COULD WELL COST THEIR PARTY UP TO…300 VOTES PER MINORITY VOTER IN EACH ELECTION and…being required to show a voter ID would RESTRICT VOTERS TO ONE VOTE EACH…ON ELECTION DAY not to mention PRECLUDING THE DEAD…FROM VOTING AT ALL!!!!

Now then, before I call it a day, please allow me one more salvo regarding the whole "minorities just can't get a voter ID" thing in the form of THE question that will drive liberals and socialists into a FROTHING FRENZY!!!
Please explain to me why…if it is SO DAMN DIFFICULT for MINORITIES to OBTAIN a VOTER ID that it is somehow RACIST to even so much as ENTERTAIN the notion…HOW…PRAY TELL…DID THOSE SAME PEOPLE…MANAGE TO…GET REGISTERED TO VOTE IN THE FIRST DAMN PLACE?????
Well?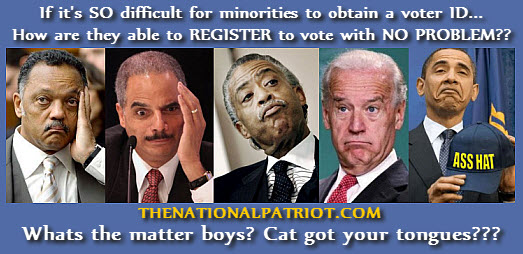 COME ON NOW…LAY IT ON ME…
BIDEN?? 
OBAMA?? 
HOLDER???
JESSE????
AL?????
COME ON NOW…EXPLAIN  TO ME…HOW MINORITIES HAVE ABSOLUTELY NO PROBLEM GETTING REGISTERED TO VOTE BUT IT'S A RACIST IMPOSSIBILITY FOR THEM TO OBTAIN A VOTER ID!!!
I'M WAITING…I'M RIGHT HERE…EXPLAIN IT!!!!!
My friends and fellow Patriots…
Today is FRIDAY and…
I AM FUMING!!!!!