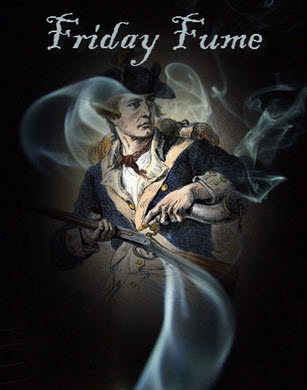 What a week it's been as liberal absurdity has reached a new high.
First, the Dictator goes down to Texas but REFUSES to visit the border where ILLEGALS are POURING in.
Then, yesterday, as the world burned…our greatest ally, Israel, began their ground war against the Gaza terrorists AND a Malaysian PASSENGER jet was BLOWN OUT OF THE SKY BY RUSSIAN REBELS…There was Obama…FUND RAISISING AGAIN…This time in NY…telling jokes and posing for photo ops…NOT SEEMING TO GIVE A DAMN that 23 Americans might be among the dead…
And in between it all…his town liar, Josh Earnest told the press that BECAUSE of Obama…"THE WORLD IS MORE…TRANQUIL!!!"
If, by "more tranquil" he means that "THE WHOLE WORLD IS GOING TO HELL IN A HAND BASKET" then yeah…I suppose the world IS more tranquil.
We could all use a few laughs about now…don't you think?
Today is FRIDAY and…
I'm fuming.
Well isn't this convenient?
The Dictator's Department of Injustice is now investigating how the Dictator's minions in the IRS "lost" all those emails and hard drives that could well have provided direct evidence of the Dictator's direct involvement in the targeting scandal.
Now what do you suppose they're gonna find?
I'M sure…after a complete and thorough investigation…the derpwads at DOJ will conclude there was "NOT A SMIDGEON OF CORRUPTION" at the IRS GESTAPO!!!
What else should we expect…after all…
Just ask ANY feather-farting fox to investigate the hen house massacre and see what sort of answers you get.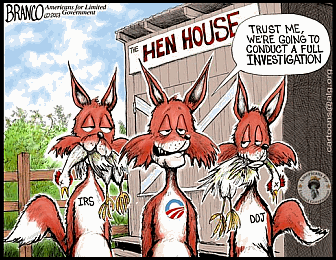 Better yet…the next time the IRS comes knocking at YOUR door…just tell em that your hard drive, with all your last 7 years of financial records on it just MYSTERIOUSLY CRASHED…that you tried your level best to retrieve the info but…golly gee…you couldn't so…YOU RECYCLED that hard drive.
When they haul your ass to court…PLEAD THE FIFTH and be on your merry way.
Well…WE'RE being told that WE have to accept that so…why shouldn't THEY???
Ever hear of April Sands? SHE resigned from the FEDERAL ELECTIONS COMMISSION last spring and ADMITTED to violating the Hatch Act…campaigning for Obama using taxpayer dollars and while on the clock…and guess what???
THE FEC NOW CLAIMS THAT HER HARD DRIVE CRASHED AND…THEY "RECYCLED" IT TOO!!!
So much for THAT investigation into a federal crime committed by yet ANOTHER Obama ass-kissing minion and I'll bet NOBODY saw THAT one coming huh?
It's like a bunch of 8 year olds who don't want to go to school because their BOOK REPORT is due and THEN they tell their TEACHERS that the DOG ATE THEIR HOMEWORK!!!
Forget the THIRD WORLD…what WE'VE got is a 3rd GRADE DICTATOR!!!
Fuming.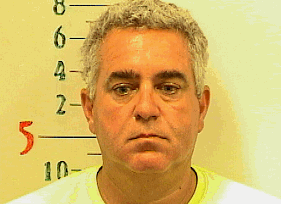 This next one definitely goes into the…EXCUUUUUUSE me file.
It seems that some nameless woman was going through Carmine Cervellino's tool box in Thomaston Connecticut the other day when she found some…pot. She called the cops and they came out to the house but did NOT arrest the 49 year old Cervellino.
So…The woman, exhibiting what I can only imagine to be a liberal mentality…left the house only to return later in the day…THE 4TH OF JULY…and what did she FIND???
Now…hold on…this is going to be graphic…
SHE FOUND A WATERMELON…ON THE KITCHEN COUNTER…ON THE 4TH OF JULY…WITH A KNIFE STICKING OUT OF IT!!!!!
Ummmmmm…dear God say it isn't so.
THEN…CERVELLINO came back INTO the kitchen and did the unthinkable…
HE STARTED…CARVING…THE WATERMELON…on the 4th of July.
Well…MISS PANTIES IN A WAD…CALLED THE COPS AGAIN and THIS time…they DID arrest the man.
Yep…having seen quite enough and being as they WERE there to PROTECT but not SERVE…watermelon on the 4th of July…THEY ARRESTED CARMINE CERVELLINO for the HIGH CRIME of…
Wait for it…
THREATENING AND DISORDERLY CONDUCT CONNECTED TO…THE PASSIVE-AGGRESSIVE STABBING…OFA WATERMELON…on the 4th of July.
It's a damn good thing they were able to stop the madness before he committed malicious grilling and serial drinking of an adult beverage.
Carmine Cervellino was released on $500 dollar bond howewer, there is no word at this time as to whether or not a restraining order has been placed to keep him at LEAST 100 feet from the produce section of his neighborhood grocery store.
I'm fuming.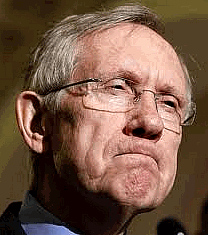 And finally…
What in the wide, wide WORLD of incomprehensible liberal blather???
Crusty, dusty senate socialist Harry Reid stood on the floor a couple of days ago and stated, UNBELIEVABLY, that…
"The border is secure."
Ummmmmm…oh, really?
"THE BORDER IS…SECURE???"
Apparently, idiots of a feather flock together because, Reid claims HE got HIS information from senator, Martin Trevor Heinrich whose state, New Mexico, has a few miles of border it shares with Mexico and, according to Crusty Reid…"Martin Heinrich talked to the caucus today. He's a border state senator. He said he can say without any equivocation the border is secure."
WITHOUT EQUIVOCATION???
Do these MORONS really believe that WE are as STUMP STUPID as THEY ARE???
Here's a little breaking news for the woefully, terminally pathologically lying liberals…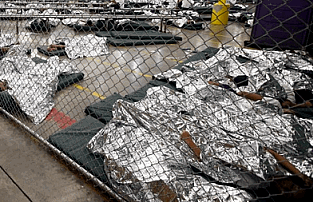 OUR BORDER IS ANYTHING BUT SECURE and as proof…I offer TENS OF THOUSANDS OF MEXICAN AND CENTRAL AMERICAN ANKLE BITING ILLEGAL  ALIEN CHILDREN who are either being housed in HOLDING facilities where they sleep under mylar blankets LOOKING LIKE UNATTENDED BAKED POTATO HEADS or are being SMUGGLED AND DISPERSED THROUGHOUT THE COUNTRY by the OBAMA REGIME!!!
There are ALSO tens of thousands of ADULT…ILLEGAL ALIENS streaming across our southern border AND THERE IS ABSOLUTELY NO END TO THE INVASION IN SIGHT!!!
Our southern border is SO damn secure…WE'RE BEING INVADED BY UNARMED 4 TO 14 YEAR OLDS!!!!
And it gets even MORE absurd.
THOSE LITTLE HISPANIC SPUDS ARE COSTING WE THE TAXPAYERS ANYWHERE BETWEEN $250 to $1000 DOLLARS PER DAY…TO ILLEGALLY HARBOR which begs the question…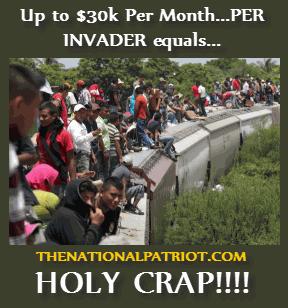 WHAT IN THE WASTE OF MONEY HELL ARE WE FEEDING THOSE CRIMINALS?????
What we're talking about here is up to…$30,000 bucks…PER MONTH…PER BED WETTING INVADER!!!
Are you KIDDING ME???
THE MEDIAN INCOME…THE AMOUNT EARNED BY THE AVERAGE AMERICAN IS…$50,000…PER YEAR…AND WE'RE FLUSHING UP TO $30,000 BUCKS…PER MONTH…PER ILLEGAL ALIEN SQUIRT…DOWN THE "UNEQUIVOCALLY SECURE" BORDER TOILET???
Do you have any idea how many TREAD MILLS…FOR SHRIMP…we could buy with that kinda scratch???
Let's do a little math on this…and let's do it WITHOUT using the GOVERNMENT INDOCTRINATION COMMON CORE CURRICULUM shall we?
So far, we have been invaded by 50,000 ILLEGAL ALIEN CHILDREN and, at a cost of up to $1000.00 PER DAY…PER CHILD…what Harry Reid has deemed to be our SECURE SOUTHERN BORDER is costing We the Taxpayers…A STUNNING…$1.5…BILLION…DOLLARS…PER MONTH and by official estimates…THERE WILL BE ANOTHER…50,000 OF THESE INVADERS POURING OVER WHAT USED TO BE OUR SOUTHERN BORDER…BY THE END OF THIS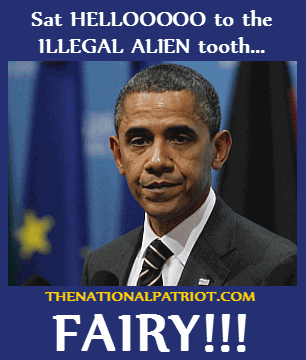 FISCAL YEAR!!!!!
Based on numbers compiled by the Department of Agriculture, a government agency run by pencil pushing yahoos with nothing better to do…it costs the garden variety American CITIZEN about $782.41 per month to raise an AMERICAN CITIZEN child from BIRTH to the age of 18 years so…why, pray tell…does it cost up to $30,000 BUCKS…PER MONTH to HOUSE AND FEED…A DAMN ILLEGAL ALIEN CHILD???
God forbid one of the mini invaders LOSES A TOOTH…AND THE GOVERNMENT TOOTH FAIRY COMES FOR A VISIT…from the looks of things…A SINGLE ILLEGAL MOLAR IS GOING TO GO FOR SOMETHING IN THE NEIGHBORHOOD OF AN IVY LEAGUE EDUCATION…AN ESTATE IN THE HAMPTONS…A YACHT AND A LAMBORGHINI!!!!!
But there's ol' Harry…"I WON'T LET THE FACTS GET I THE WAY OF MY PROPAGANDA" Reid…telling us ALL that "THE BORDER IS SECURE!!!"
AT THIS POINT…THAT'S LIKE SAYING THE TITANIC IS…"WITHOUT ANY EQUIVOCATION"…UNSINKABLE!!!"
My friends and fellow Patriots…
Today IS Friday and…
I AM FUMING!!!!!!!