The time has come to DEMAND the IMMEDIATE ARREST and PROSECUTION of one BARACK HUSSEIN OBAMA upon his willful and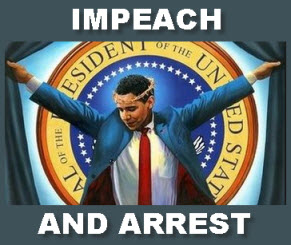 arrogant transgression of 18 U.S. Code § 2339A.
I hereby call on all members of the house and the senate to begin impeachment proceeding against Barack Hussein Obama and for Andrew B. "Drew" Willison, the current Senate Seargent at Arms to issue and execute an arrest warrant, taking the president, Barack Hussein Obama into custody.
Barack Hussein Obama is in direct violation of 18 U.S. Code § 2339A – Providing material support to terrorists as a result of the removal of five Taliban GITMO detained terrorists and the transfer OF them to the government of Qatar where they, according to the specified arrangement negotiated BY Obama that they only be kept from traveling for a period of one year.
According TO 18 U.S. Code § 2339A:
18 U.S. Code § 2339A – Providing material support to terrorists
(a)    Offense.— "Whoever provides material support or resources or conceals or disguises the nature, location, source, or ownership of material support or resources, knowing or intending that they are to be used in preparation for, or in carrying out, a violation of section 32, 37, 81, 175, 229, 351, 831, 842 (m) or (n), 844 (f) or (i), 930 (c), 956, 1091, 1114, 1116, 1203, 1361, 1362, 1363, 1366, 1751, 1992, 2155, 2156, 2280, 2281, 2332, 2332a, 2332b, 2332f, 2340A, or 2442 of this title, section 236 of the Atomic Energy Act of 1954 (42 U.S.C. 2284), section 46502 or 60123 (b) of title 49, or any offense listed in section 2332b (g)(5)(B) (except for sections 2339A and 2339B) or in preparation for, or in carrying out, the concealment of an escape from the commission of any such violation, or attempts or conspires to do such an act…"
That being the willful and deliberate potential violation of up to some 43 separate sections of a written and standing law.
Furthermore…
To examine in detail the specific nature of Barack Hussein Obama's grievous violations of the law 18 U.S. Code § 2339A, we must seek clarification of and for the definition OF said Providing material support to terrorists.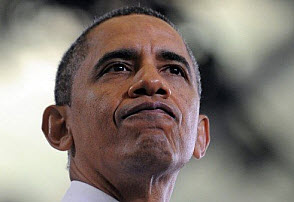 (b) Definitions.— As used in this section—
(1) "the term 'material support or resources' means any property, tangible or intangible, or service, including currency or monetary instruments or financial securities, financial services, lodging, training, expert advice or assistance, safehouses, false documentation or identification, communications equipment, facilities, weapons, lethal substances, explosives, personnel (1 or more individuals who may be or include oneself), and transportation, except medicine or religious materials;
(2)" the term "training" means instruction or teaching designed to impart a specific skill, as opposed to general knowledge; and
(3) the term "expert advice or assistance" means advice or assistance derived from scientific, technical or other specialized knowledge."
For FURTHER clarification… "personnel (1 or more individuals who may be or include oneself) "as seen in the above definition.
For the record, Barack Hussein Obama did willfully and without prior 30 day notification to congress (a transgression of written NDAA law as signed INTO law by Obama himself in 2013) transfer not one, not two, not three, not four but FIVE Taliban terrorist detainees FROM GITMO and TO QATAR where they were hailed as heroes under terms which specify they only be kept from traveling outside the borders OF Qatar for a period of one year.
And what of the penalty for violating 18 U.S. Code § 2339A?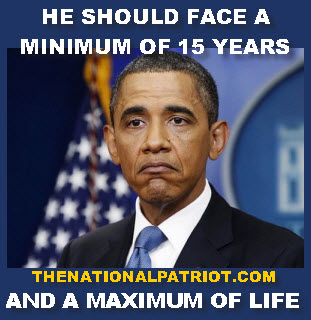 According to the law, those convicted of violating 18 U.S. Code § 2339A…"shall be fined under this title, imprisoned not more than 15 years, or both"  however, should the death of any person result due to the violation of  18 U.S. Code § 2339A…the convicted …"shall be imprisoned for any term of years or for life. A violation of this section may be prosecuted in any Federal judicial district in which the underlying offense was committed, or in any other Federal judicial district as provided by law."
For clarification…simply for being found guilty of violating 18 U.S. Code § 2339A, the convicted can be fined and/or imprisoned for up to but not beyond 15 years however, should the death of ANY PERSON result FROM said violation of 18 U.S. Code § 2339A…the penalty can be extended up to LIFE IN PRISON.
And who ARE these five terrorists whom Obama has sent back to rejoin their Jihadi battle?
Abdul Haq Wasiq 
Thought to be in his early 40s, Wasiq served as the Taliban deputy minister of intelligence and "had direct access to Taliban and Hezb-e-Islami Gulbuddin leadership," according to an internal memo that assessed risk at Guantanamo. He reportedly used his office to support Al Qaeda "and to assist Taliban personnel elude capture." He also reportedly arranged for Al Qaeda personnel to train Taliban intelligence staff
Mullah Norullah Noori 
As a senior Taliban military commander, Noori has been described in government reports as a military mastermind of sorts who engaged in hostilities "against U.S. and Coalition forces in Zabul Province." Noori, who is estimated to be around 46 or 47 years old, has developed close ties to Taliban leader Mullah Omar and other senior Taliban officials, according to a JTF-GTMO report. Noori, who was named as the Taliban governor for the Balkh and Lagman provinces, is wanted by the United Nations for war crimes including the murder and torture of thousands of Shiite Muslims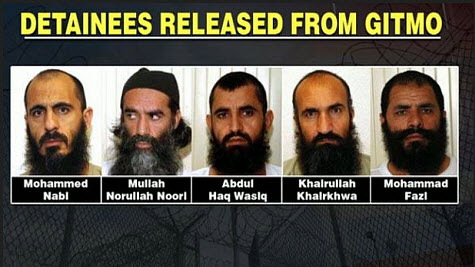 Mullah Mohammad Fazi 
As the Taliban's former deputy defense minister, Fazi was held at Guantanamo after being identified as an enemy combatant by the United States. Fazi is an admitted senior commander who served as chief of staff of the Taliban Army and as a commander of its 22nd Division. He's also wanted by the United Nations on war crimes for the murder of thousands of Shiite Muslims in Afghanistan.
Mullah Khairullah Khairkhwa 
Khairkhwa is the former governor of the Herat province and has close ties with Usama bin Laden and Mullah Omar.  According to the Joint Task Force Guantanamo file, Khairkhwa "represented the Taliban during meetings with Iranian officials seeking to support hostilities against US and coalition forces." Khairkhwa and his deputies are suspected of being associated with an extremist military training camp run by the Al Qaeda commander Abu Musab al Zarqawi, who was killed in 2006.
Mohammad Nabi Omari 
As a senior Taliban leader, Nabi Omari has held multiple leadership roles in various terror-related groups. Pre-9/11, Nabi, who is estimated to be in his mid-40s, worked border security for the Taliban – a position that gave him "access to senior Taliban commander and leader of the Haqqani Network, Jalaluddin Haqqani," according to the JTF-GTMO report. Born in the Khowst Province of Afghanistan, Nabi Omari and his family were forced to resettle as refugees though In Miram Shah, Pakistan after the Soviet Union's occupation in Afghanistan. In the late 1980s, Nabi Omari returned to Afghanistan where he fought with the mujahideen against the Soviets. During the early 1990s, he ping-ponged between Taliban-related positions and others, including a stint as a used car salesman. In August 2002, Nabi reportedly helped two al Qaeda operatives smuggle missiles in Pakistan.
How strong is the case against Barack Hussein Obama?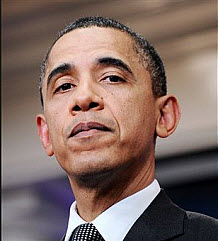 Obama has not only publicly admitted to engineering the release of the GITMO 5, terrorist masterminds and purveyors of death so dangerous and vile that they have, in some cases, been deemed INTERNATIONAL criminals GUILTY OF WAR CRIMES by the United Nations…he has PROUDLY announced his decision to set them free in a nationally televised speech.
In fact, in the days SINCE he took credit for his violation of 18 U.S. Code § 2339A, Barack Hussein Obama has defended his illegal acts, sent others to defend his illegal actions in the media and offered the following admission, again in public, to members of the media: "Is there the possibility of some of them trying to return to activities that are detrimental to us? Absolutely," and…"I wouldn't be doing it if I thought that it was contrary to American national security."
That's correct…so proud is Obama of his decision to release from GITMO, five of the worst terrorists held there and send them to Qatar where they will be free to reenter Afghanistan in one year and resume the practice of their murderous and terrorist ideology almost immediately, that he DEFENDS his willful violation of 18 U.S. Code § 2339A by asserting it, is his opinion, is somehow NOT "contrary to American national security."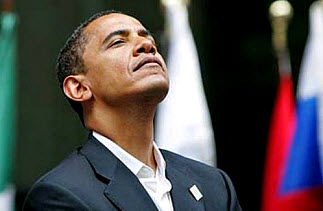 And what exactly separates THIS release of GITMO terrorists from the release of so many others over the past decade?
In November of 2011 and again in January 2012, Obama administration 'officials' communicated with Members of congress regarding swapping FIVE GITMO TERRORIST DETAINEES for one, Bowe Bergdahl however, those key lawmakers cited deep concerns over involving a 'non state entity' (read Qatar) and over the fact that the five in question would, most likely, return to terrorism, jihad and the targeting of Americans along with the deeply concerning suspicion that such a transfer would put more American lives in danger once terrorist organizations realized that we would pay their price.
In short, the request to trade five HIGH LEVEL Taliban terrorists, some with direct ties to al-Qaeda for Bowe Bergdahl was DENIED by congress.
To summarize…
This release of five of THE most high risk terrorists from GITMO to Qatar in negotiations with the Taliban was forced through and completed by Barack Hussein Obama without any U.S. intelligence agency being given the opportunity to evaluate the ramifications of returning them to the field of battle.
Barack Hussein Obama, in completing this terrorist transfer also deliberately ignored the recommendations of congress regarding the GITMO 5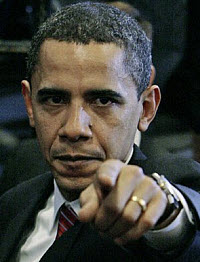 from 2011 and 2012 and deliberately ignored written law requiring him to provide no less than 30 days notice TO congress, a law he, Barack Hussein Obama signed just 6 months ago.
Barack Hussein Obama also willfully and with malice of forethought violated 18 U.S. Code § 2339A  – Providing Material Support to Terrorists as outlined at the beginning of this article.
Therefore…
As an American Citizen, one of We the People, I demand that congress file articles of impeachment IMMEDIATELY against Barack Hussein Obama and further, that the current Senate Seargent at Arms, Andrew B. "Drew" Willison, move to ARREST Barack Hussein Obama immediately for high crimes and misdemeanors and that Barack Hussein Obama be held, without bail, until such time has the completion of his trial as a person of his financial means and a background that could not be verified by the government's e-Verify system nor by the Obamacare background check system is a flight risk.
Furthermore…
We are a nation of laws…laws that are to apply equally to ALL Americans regardless of one's station in live including our elected officials. When one, elected to the nation's highest office places himself ABOVE the laws that govern We the People, THAT elected official ceases to hold the office of president and becomes something else altogether.
In this case, BARACK HUSSEIN OBAMA, in choosing of his own accord which laws he will and will not follow, has subverted his oath of office to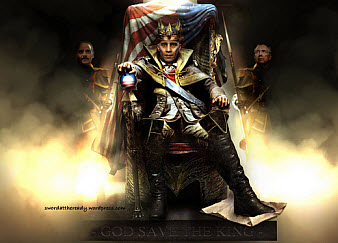 "faithfully execute the Office of President of the United States,"  and he has willfully declined to "preserve, protect and defend the Constitution of the United States."
And finally…
BARACK HUSSEIN OBAMA…by the complete and total lack of virtue in his actions regarding the utter violation of 18 U.S. Code § 2339A  – Providing Material Support to Terrorists and by placing the lives of American Service men and women as well as the lives of ALL Americans at home and abroad in much greater jeopardy from our enemies in a time of war…has places himself above the laws of the United States of America and self-elevated his position to that of a TYRANT KING who should be IMMEDIATELY impeached AND arrested.
URGENT!!!
I hereby ask all who read this statement to share this article until it has been made VIRAL via any means possible and then join with me and my friend and radio partner, Diane Sori in SIGNING OUR RIGHT SIDE RADIO petition to have Obama IMPEACHED and ARRESTED by CLICKING THIS LINK!!!
Also, please Follow Right Side Patriots on FB by CLICKING HERE
For more details on the GITMO 5…Please Click Here