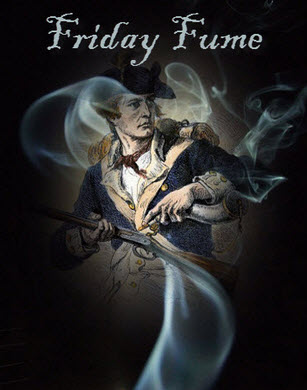 It occurs to me that, were liberals not the complete idiots they indeed are, I could take Friday's off however…since the beginning of The National Patriot…I HAVE set myself to the monumental task of sifting through the piles of moronic behavior to produce a weekly take on their absurdity.
This week, we hit a milestone of sorts…
Friends and Patriots…it's Friday and…
I AM FUMING FOR THE 150TH CONSECUTIVE TIME!!!!!
Well lookie here…
The U.S. Patents and Trademark Office…under the control of the PC police wing of Eric Holders Injustice Department…has CANCELLED the trademarked name of the Washington REDSKINS because they have deemed it…"disparaging to Native Americans!!!!"
Apparently the Patents and Trademark office of the Obama regime was SWARMED by COUNTLESS HOARDS of REDSKINED heathens who were OFFENDED that an NFL team would call itself the REDskins.
Okay…it wasn't hoards…they're not heathens and they were only COUNTLESS to those who use common core math…
There were five…FIVE Indians who complained. FIVE…not six…not a dozen…
Five.
"We decide, based on the evidence properly before us, that these registrations must be cancelled because they were disparaging to Native Americans at the respective times they were registered, in violation of Section 2(a)  of the Trademark Act of 1946, 15 U.S.C. § 1052(a)."
This of course comes as a great surprise to Redskins' ownership as they were about to change the name anyway…
Dropping "WASHINGTON" because of it's obvious insult to ALL of America but one can easily see how the offense of FIVE people outweighed THAT.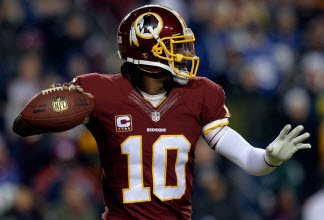 Naturally, this will cause a BOON in the SALE of Redskin merchandise as the team no longer has control and ANYBODY can now manufacture and sell the stuff…yeah…it's going to cause the team some financial trouble so…I would like to suggest a NEW moniker for Washington's football franchise and one that the U.S. Patent and Trademark Office should have absolutely NO qualms over as it cannot POSSIBLY be deemed offensive. In fact…it is uttered CONSTANTLY by comedians to GRAND applause and is heard NON STOP in the music industry.
THE WASHINGTON NIGGAS!!!!!!!
Let's face it…you hear virtually NO expressions of offense by the very people you would THINK might be offended by this suggestion and it IS a current, catchy youthfully inspired word.
Here's the only problem I see however…
How on EARTH of those guys gonna run down field and not get caught…WITH THEIR DAMN PANTS AT HALF MAST???
Fuming.
Okay…let's just see if I have this straight.
According to…Sheikh…Nasser…bin…Hamad…al…Khalifa, a former Qatari Ambassador to the United States…a warning has been issued against the United States working together with Iran to repulse the repulsive advance by the radical Sunni group Islamic State of Iraq and Syria, also knows and ISIS because…any military intervention on behalf of the government of Iraqi Prime Minister Nouri al Maliki would be seen as an act of war on the entire community of Sunni Arabs.
I'm guessing the "community of Sunni Arabs" has an HOA???
Well…THAT'S rich considering the Qataris had NO PROBLEM at ALL when our Dictator sent THEM FIVE TALIBAN TERRORISTS who want nothing more than TO WAGE WAR ON US!!!!!
Obviously HEEDING the warning, our INSANE HUSSEIN has decided the BEST response to GENOCIDE is to send over…JOHN 'KETCHUP BOY 'KERRY and 300 HUNDRED…PANSY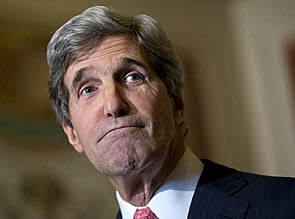 -ASS ADVISERS to talk some sense into THE MURDEROUS ISLAMISTS!!!
Oh, THIS is going to go well…
What if they catch Kerry and decide to BEHEAD him???
They're gonna need something more substantial than a bayonet on which to mount the trophy…I mean…have you ever NOTICED the FREAKISH SIZE of that LIBERAL MORON'S LIPLESS MUPPET MELON??? Maybe they'll just set up another, terrorists for one of our TRAITOR'S swap.
Let me tell you…NOTHING strikes FEAR into the very being of our enemies like SENDING ADVISERS in to fix the problem…JUST ASK THE NORTH VIETNAMESE!!!!!
Barry NUMB NUTS says, "the U.S. already has significantly increased intelligence and surveillance to better understand what Sunni militants with the Islamic State of Iraq and Syria are doing. "
YOU DON'T NEED TO BE A FREAKIN' ROCKET SCIENTIST TO LOOK AT THE SELFIES THOSE JIHADIS WITH THEIR PANTIES IN WADDIES ARE DOING AND POSTING ON THEIR FACEBOOK PAGES!!!!!
'Over HERE is a guy who was running away from us and waaaaay over there…by MAHMOUD the DUDE is his HEAD!!!"'WHAT IN THE HELL DOES OBAMA THINK THEY'RE DOING THAT NEEDS CLEARING UP BY MORE SURVEILLANCE?????
ya wanna know what they're doing???I'LL TELL YOU WHAT THEY'RE DOING…THEY'RE DRIVING AROUND IN OUR TANKS AND HUMMERS…SHOOTING PEOPLE WITH THE WEAPONS OBAMA GAVE EM AND…BEHEADING ANYBODY WHO ADVISES THE IRAQI MILITARY…THAT'S WHAT THEY'RE DOING!!!
And what…EXACTLY…does he think these ADVISERS are going to do in the middle of a swarm of a hundred thousand ALALALALALALALALALA  GOAT HUMPING BARBARIANS???
If he REALLY wanted to put an END to this…HE'D SEND OVER THE U.S. PATENTS AND TRADEMARK OFFICE  WITH A COMPLAINT FROM FIVE MOOOOOOOOOSLIMS CLAIMING THE USE OF THE TERM ISIS IS OFFENSIVE TO RELATIVES OF THE ANCIENT EGYPTIAN GODDESS!!!!!
I'm fuming.
And finally…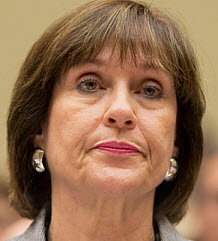 Subpoenas not withstanding…Lois Lerner's computer has essentially pleaded the 5th and refused to testify.
Issa SUBPOENAED thousands of LERNER'S EMAILS dating from 2009 to 2011 to see just how the whole targeting of conservative groups developed but…Me-O-MY-O in the STRANGEST OF COINCODENCES…Lerner it seems was the VICTIM of what is now known FAR and WIDE as "THE GREAT COMPUTER CRASH OF 2011" and ALL of those EMAILS were WIPED OUT!!!!!
And the hard drive? Where's the hard drive???
OH WELL GOLLY GEE…THE HARD DRIVE OF LOIS LERNER'S IRS COMPUTER WAS…RECYCLED AND HAS NOW VANISHED…NEVER TO BE SEEN AGAIN!!!
Uh huh….
And the backup…what about the double top secret, official IRS high level backup system employed just on the OFF CHANCE that something like this would happen???
Oh…the COMPUTER TAPE ARCHIVAL BACKUP SYSTEM??? Well…THAT is only kept for…6 MONTHS BEFORE IT'S DESTROYED…YOU KNOW…IN ORDER TO KEEP ALL OF THE IRS 's COMPILED PERSONAL INFORMATION ON AMERICAN CITIZENS FROM FALLING INTO THE WRONG HANDS!!!!!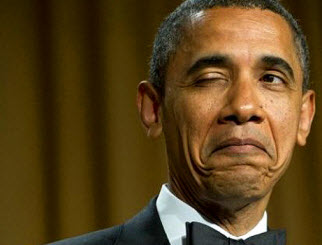 Ummmmm…Any time the IRS goons descend on We the People…WE HAVE TO PRODUCE OUR RECORDS GOING BACK TO THE TAFT ADMINISTRATION but the IRS itself only hangs on to THEIR crap for…6 MONTHS????
ARE YOU FREAKIN' KIDDING ME?????
How 'bout we all give THAT a try the next time the IRS comes KNOCKING ON OUR DOORS???
Well…at LEAST the emails of the OTHER 6 IRS targeting squad executives subpoenaed by the house committee are available.
They ARE available…right???
WELL…NO THEY'RE NOT BECAUSE…APPARENTLY THE GREAT COMPUTER CRASH OF 2011 WAS NOT CONFINED TO LOIS LERNER'S DESK…IT WAS SO SEVERE THAT IT LEAPT FROM DESK TO DESK AND WIPED OUT ALL 6 OF THEIR EMAIL ACCOUNTS TOO!!!!!
And…what about the requirement that ALL IRS EMAILS must be backed up by HARD…PRINTED…COPIES???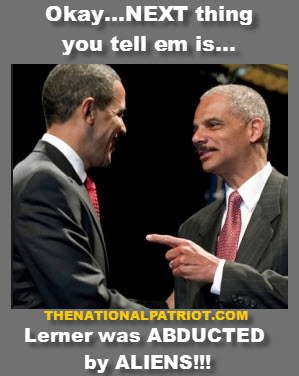 Well, so far we haven't heard the excuse for that one yet but can we just assume…MOOOOOOOCHELLE ATE THEM???????
Soooooo…they're asking us all to believe…in this day and age…when the NSA CAN TELL ME WHEN THE LAST TIME I FARTED WAS ALONG WITH WHAT I HAD FOR LUNCH AND…ANCESTRY.COM CAN TRACE YOUR FAMILY TREE ALL THE WAY BACK TO EVE'S APPLE TREE…WE CAN'T GET A PEEK AT LOIS LERNER'S EMAILS OR THAT DAMNED KENYAN'S ACTUAL BIRTH CERTIFICATE?????
WE CAN LOOK AT GALAXIES…MILLIONS OF LIGHT YEARS AWAY BUT WE CAN'T LOOK AT EMAILS FROM 2009…OBAMA NEEDS 300 ADVISERS TO TELL HIM WHAT THE HELL IS GOING ON IN IRAQ AND…OUR NATION'S BIGGEST PROBLEM IS CALLING A FOOTBALL TEAM…THE REDSKINS?????
JUDAS PRIEST…AND I DON'T MEAN THE ROCK BAND…WHAT ARE WE EVER GONNA DO AS A NATION IF…MRS. MURPHY'S CAT GETS STUCK ON THE ROOF?????
My friends and fellow Patriots…
Today is Friday and…
I AM FUMING!!!!!!!