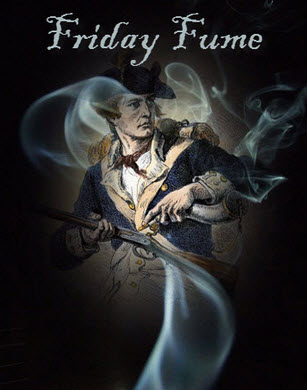 Well of all the…
Really?
$400,000.00 of OUR money…TAXPAYER dollars…Are about to be spent on WHAT…Exactly???
A CAMEL statue?
It's only a one humper too.
And it's not going to be placed in some fancy east coast art museum or on the Washington mall. Nooooooooo…
IT'S GOING TO BE IN…PAKISTAN!!!!!
The 500-pound, fiberglass, aluminum, stainless-steel, acrylic and painted white monstrosity is called…
Get this…
"CAMEL CONTEMPLATING A NEEDLE!!!!!"
So…Who's bright idea is THIS???
THE UNITED STATES STATE DEPARTMENT and…THEY'RE GONNA PUT IT OUTSIDE THE U.S. EMBASSY IN ISLAMABAD!!!!!
Of all the ISLAM-a-BAD IDEAS…IT'S RIGHT OUT OF THE NEW TESTAMENT AND…YOU KNOW HOW THE ISLAM-O-BOMBERS FEEL ABOUT THE NEW TESTAMENT!!!!
And you wonder why MAHMOUD KABOOM is gonna get all ALALALALALALALALA over this thing???
Because…
According to a Department of State memo regarding the camel…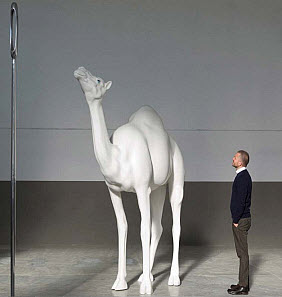 "This artist's product is uniquely qualified. Public art which will be presented in the new embassy should reflect the values of a predominantly Islamist country."
"REFLECT THE VALUES OF A PREDOMINANTLY…ISLAMIC…COUNTRY???"
THE STORY OF THE CAMEL PASSING THROUGH THE EYE OF A NEEDLE CAME FROM NONE OTHER THAN…JESUS CHRIST!!!!!
On the off chance that our State Department, under the "leadership" of KETCHUP BOY hasn't noticed…Allow me to fill them in.
THE POWERS THAT BE IN BUTTCRACKISTAN ARE STILL A LITTLE PISSED THAT WE SENT NAVY SEALS OVER THERE TO…PERFORATE…THE MOST FAMOUS RESIDENT OF ABBOTTABAD A COUPLE OF YEARS BACK!!!
AND WE'RE NOW SENDING THEM A STATUE…OF A PARABLE…TOLD BY CHRIST???
That should make their head diapers explode.
However…If they REALLY want to appeal to the…"VALUES" of a predominantly ISLAMIC country…
THEY SHOULD SPEND AN EXTRA $59.95 OF OUR TAXPAYER DOLLARS AND…SET UP A 6 FOOT STEP LADDER BEHIND THE THING so that all the horny ISLAMISTS can CLIMB UP THERE AND GET A LITTLE PIECE OF A CAMEL THAT AIN'T ALL WOOLY AND ITCHY!!!!!
Fuming.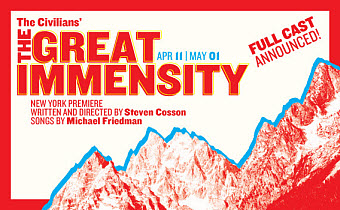 Next up on this week's list of liberal insanity is…
"The Great Immensity."
What? You haven't HEARD of "THE GREAT IMMENSITY???"
No…We're not talking about the Dictator's ego.
IT'S A PLAY…A MUSICAL…FUNDED BY TAXPAYER GRANTS VIA THE NATIONAL SCIENCE FOUNDATION TO THE TUNE OF $700,000.00 and it's all about…CLIMATE CHANGE!!!
Holy CAMELS Batman…THAT'S ALMOST ENOUGH FOR 2 MORE CAMEL STATUES IN PAKISTAN!!!
Anyway…
According to a written description of "BULLCRAP – THE MUSICAL…"
"It is a thrilling and timely production" that is a highly theatrical look into one of the most vital questions of our time: how can we change ourselves and our society in time to solve the enormous environmental challenges that confront us."
And…According to some CHORUS BOY OVER AT THE NATIONAL SCIENCE FOUNDATION…
"This venture, like other more traditional NSF-funded informal science education projects, aims to educate through a focus on understanding the scientific method, its applications, and its unique ability to extract knowledge about our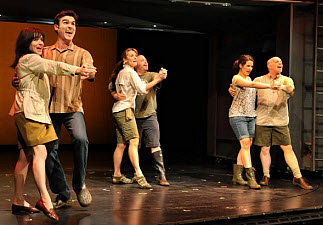 complex natural world."
Listen Skippy…When it comes to the wonders of science and "global warming" I dial back my THERMOSTAT and PRESTO…COLD AIR COMES OUT OF THE VENTS!!!
I DON'T NEED TO KNOW HOW THE DAMN WATCH WAS BUILT TO FIGURE OUT WHAT TIME IT IS!!!
As for our COMPLEX WORLD…GLOBAL WARMING…GLOBAL COOLING AND…CLIMATE CHANGE AIN'T NOTHIN' BUT THE WEATHER and if these SOCIALIST devotees of AL JAZERRA GORE think attending the THEATER is gonna have some effect on the SUN…
THEY'VE BEEN OUT IN IT TOO LONG!!!
I don't care if they gave me FREE TICKETS to the thing…I'D RATHER STAY HOME AND WATCH THE ISLAMABAD WEBCAM AND SEE TERRORISTS FALLING OFF THE 1ST OF THEIR 72 VIRGINS!!!!
I'm fuming.
And finally…
OBAMACARE IS A SUCCESS!!!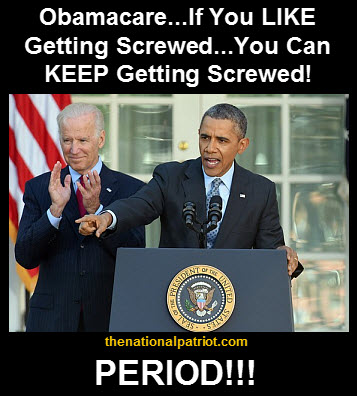 Wait…WHAT???
Well…They DID got their 7 million enrollees…Didn't they?
NOT SO DAMN FAST THERE, YOU LOP-EARED DICTATOR!!!
Does he REALLY expect us to believe that???
Let's look at the facts.
2 days BEFORE the March 31st deadline…THEY WERE 2 MILLION SHORT.
On the DAY of the DEADLINE…THE OBAMACRAP WEBSITE WAS UP…THEN IT WENT DOWN…CAME BACK UP…WENT DOWN AGAIN…
Yet, by some MIRACLE…
Brain dead Biden DID nominate the Dictator for SAINTHOOD ya know…
ON THAT LAST DAY…MORE THAN 1 MILLION PEOPLE SIGNED UP FOR SOCIALISM!!!!!
Uh huh.
Oh…The REGIME is SURE there are exactly 7.1 MILLION SOCIALISMCARE ENROLLEES RIGHT NOW but…They don't know how many of them signed up for TAXPAYER FUNDED MEDICAID???
They have no idea how many PREVIOUSLY UNINSURED AMERICANS BENT OVER FOR HIGHER PREMIUMS AND SKY HIGH DEDUCTIBLES???
The can't begin to tell us how many of those, exactly 7.1 million have…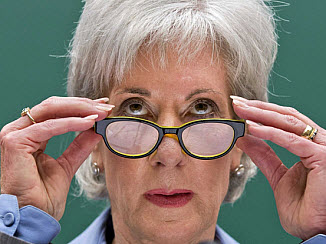 Oh, I don't know…
PAID FOR THEIR SOCIALISM?????
Interesting.
Well, according to the L.A. Times…ONLY 858 THOUSAND HAVE PAID UP which, using COMMON CORE MATH means…
OBAMACARE'S A SUCCESS!!!!!
Would anyone in the regime care to explain why…If socialismcare is all berries and roses…THE INSURANCE INDUSTRY IS SAYING THERE AREN'T ENOUGH PEOPLE IN THE STINK TO KEEP PREMIUMS FROM GETTING ALL JACKED UP TO TWICE WHAT THEY ARE RIGHT NOW???
Gee whiz…The Dictator came ALL THE WAY BACK FROM TELLING THE BRUSSELS SPROUTS THAT OUR CONSTITUTION IS OUTDATED AND INTERNATIONAL LAW IS SUPERIOR TO OURS and made a speech in the Rose Garden to let us all KNOW his signature piece of legislation is a success but…
HE FORGOT TO EXPLAIN HOW SOMETHING THAT HAS BEEN MESS WITH AND DELAYED TO THE POINT WHERE ONLY ABSOLUTE IDIOTS WOULD BE SIGNING ON COULD POSSIBLY REACH 7.1 MILLION ENROLLEES!!!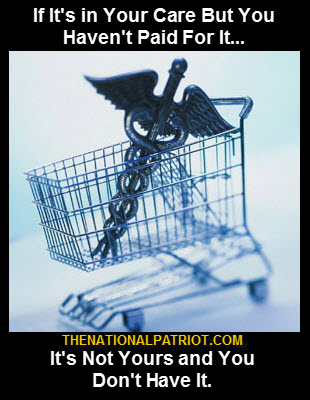 Let's say you go to the grocery and you grab some hamburger and plop it into your cart. Then, you get some HUNTS ketchup because you're a Conservative and KERRY-HEINZ doesn't sit well with you and you plop THAT in your cart.
Onions…Green peppers…Some bread crumbs…DON'T FORGET THE EGGS…And all of that is in your shopping cart.
You park your cart at the end of aisle 6 and leave it there…walk out to your car and go home.
What are you having for dinner???
IT SURE THE HELL AIN'T MEATLOAF BECAUSE THE STUFF AIN'T YOURS UNTIL YOU PAY FOR IT!!!!!
And last but not least…Did you see what happened on the last day of enrollment over in California?
Apparently, they had a special phone number for the HEARING IMPAIRED where, as my best guess, THE OPERATOR SIGNING YOU UP BECAUSE THE WEBSITE WASN'T WORKING RIGHT WOULD YELL THE INSTRUCTIONS AT YOU but…That phone number was a little more special than it needed to be…
THE NEAR DEAF PEOPLE WHO CALLED IT WERE CONNECTED TO A 1-800 SEX TALK LINE!!!
Oh, great…
NOW THEY'RE GONNA GO BLIND TOO!!!!!
Now…Here's the kicker…
THIS REGIME SPENT…$700 MILLION DOLLARS JUST TO PROMOTE OBAMACARE and…NEARLY 800 MILLION DOLLARS ON A WEBSITE THAT IS ONLY HALF BUILT, HAS NO SECURITY AND OFFERS ABSOLUTELY NO WAY TO MAKE A PAYMENT…COMBINE T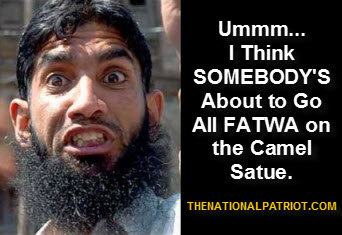 HAT WITH THE HUNDREDS OF MILLIONS SPENT ON INDIVIDUAL STATE WEBSITES THAT DON'T WORK EITHER AND…YOU COME UP WITH A CONSERVATIVE TOTAL OF…
$2 BILLION DOLLARS…SO FAR.
$2 BILLION U.S. TAXPAYER BUCKS!!!
DO YOU REALIZE THAT…FOR THAT KIND OF SCRATCH…BUTTCRACKISTAN COULD HAVE A HERD OF…
5000 FIBERGLASS, JESUS PARABLE CAMELS????
My friends and fellow Patriots…
Today is Friday and…
I AM FUMING!!!!!!!