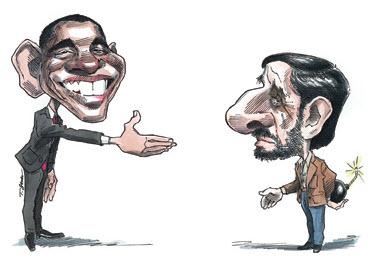 In what will only be seen as a direct and clear sign of weakness, reports have leaked of a letter sent by Obama to Iran asking for direct talks regarding Iran's nuclear program and the issues surrounding the Strait of Hormuz!!
Iran, which weeks ago, became the recipient of a top secret drone which went astray and landed itself in pristine condition I Iran, yesterday taunted Obama by offering to send a plastic toy model of the drone to the white house.
In a previous and clear sign of weakness, Obama has asked Iran to return the drone but refused to either destroy it or attempt to retrieve it.
Patriots…IRAN HAS OBAMA AND THE UNITED STATES EXACTLY WHERE THEY WANT HIM AND US!!!
Iran is currently holding a former Marine on charges of spying and has sentenced him to death. They have the drone. They are now refining uranium. Ahmadinejad has been traveling and joking with Chavez and Castro about HAVING a nuke and USING it against the United States.
Iran has threatened to close the Strait of Hormuz.
Last week, the U.S. called off joint naval operations with Israel.
NOW, IF REPORTS OF THIS LETTER FROM OBAMA TO IRAN PROVE TRUE…
IRAN IS LAUGHING AT THE UNITED STATES AND THE WEST IN GENERAL!!!
And why shouldn't they?
Obama pulled out of Iraq. Obama is trying to expedite our withdrawl from Afghanistan. Obama gave a seat at the table to the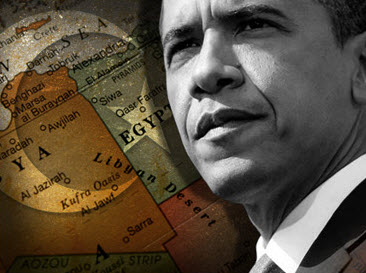 Muslim Brotherhood in Egypt. The Egypt/Israel peace accord is hanging on by a thread. Obama helped oust Gadaffi from Libya where the al Qaeda flag now flies in Benghazi. Obama is trying to hold talks with the Taliban.
WHY WOUD IRAN NOT BE LAUGHING AT THE UNITED STATES RIGHT NOW???
In the last week, Obama announced we are DOWNSIZING our military.
Obama suggested that Israel return to their pre 1967 borders.
Obama has backed Palestinian statehood.
TODAY, OBAMA HAS DECIDED TO DENY THE KEYSTONE PIPELINE MAKING US MORE RELIANT ON FOREIGN SOURCES OF OIL!!!
For months, I have written in The National Patriot, of what I term The Obama Doctrine in foreign policy and of the extreme danger of it.
Now, if the early leaked report of a letter asking for direct talks with Iran proves true, a better example of the clear and present danger could not be more clear.
Regardless of the wording of such a letter, a call…ANY call for direct talks with Iran will be taken as a sign of weakness. Iran will see this as Obama backing down.
Iran now knows THEY hold all the cards!!!
The worst that could happen for Iran is a delay in any further sanctions while THEY decide whether or not to actually ACCEPT the request for such talks. This, in essence, provides Iran even MORE time to advance their nuclear efforts and MORE time to thumb their nose at the west.
Obama has reportedly been trying to stop any action by Israel against Iran.
Obama has reportedly told China he may not be able to hold Israel off forever.
CHINA HAS BEEN AIDING IRAN IN THEIR DEVELOPMENT OF NUCLEAR CAPABILITIES!!!
This early and as yet unconfirmed report of Obama begging Iran to talk is a move of appeasement on a scale as great as that attempted by Neville Chamberlain!!!!
Let me tie 3 different stories together for you and granted, there is more UNKNOWN about them then KNOWN…Still….
1)      Remember the Iranian plot to kill the Saudi Ambassador ON U.S. soil? Okay…we stopped that one.
2)      Last week, an Iranian nuclear sc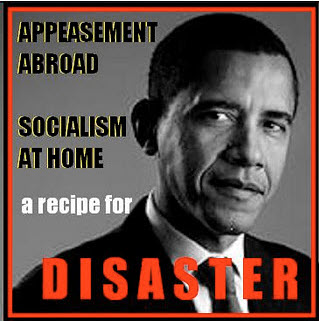 ientist was assassinated by a car bomb in Iran and they blamed the CIA and/or Israel for it.
Now…a BREAKING NEWS story within a BREAKING NEWS STORY…
3)      JUST MINUTES AGO, AN IRANIAN FORMER SCIENTIST NOW LIVING IN TEXAS WHO IS AN ACTIVIST AGAINST THE IRANIAN GOVERNMENT AND ADVOCATES WOMEN'S RIGHTS WITHIN IRAN WAS JUST KILLED BY A SINGLE GUNSHOT WHILE IN HER CAR LESS THAN A BLOCK FROM HER TEXAS HOME!!!
As I said, there is more unknown than known but, should the killing of this woman in Texas be considered a mere coincidence? A random act of violence?
With all respect to the Texas law enforcement officials, this should be investigated FIRST as a possible political assassination by federal authorities!!!
OBAMA HAS SYSTEMATICALLY WEAKENED OUR POSITION ON THE WORLD'S STAGE AND NOW, IF THE REPORT OF OBAMA ASKING FOR TALKS WITH IRAN IS TRUE, WE NO LONGER HAVE ANY STANDING ON THAT STAGE!!!