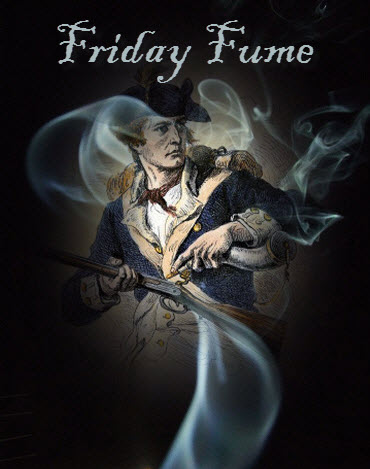 Is it really Friday already?
I just got over LAST week's bout of fuming and here we are at the end of another week of liberal/socialist inane blather.
Fear not Patriots, even though it seems to have crept up on us like a cheap pair of tighty whities,
It's Friday and…
I'm fuming.
"He's not going to ask me to stay on, I'm pretty confident. I'm confident he'll be president. But I'm also confident he's going to have the privilege of having another secretary of the Treasury."
Those were the words of Timmy Tax Dodger a few days ago.
Who would have thought, just a couple years ago, that a guy who DIDN'T PAY HIS TAXES AND WAS PUT IN CHARGE OF THE TREASURY WOULD BE THE LEAST OFFENSIVE OF THE EMPEROR'S MINIONS???
Can't we get ERIC HOLDER to make a FAST AND FURIOUS DEPARTURE???
Now we get THIS from Hillary…
She wants to "step off the high wire of American politics."
AREN'T THE RATS ALWAYS THE FIRST TO JUMP OFF A SINKING SHIP???
Ol' Hillary says she'll stay on 'til the Emperor nominates somebody else for the State Department post and given his STERLING RECORD OF NOMINEES…one has to wonder where he'll find a replacement.
How about whats-his-name…the guy who heads up CAIR?
Nihad (panties in) Awad?
I WOULDN'T BE SURPRISED IF HE'S ON THE SHORT LIST!!!!!
It doesn't really matter anyway.
A couple of days ago, Arizona Governor Jan Brewer shoved her finger in the Emperor's face – but come November, THE REST OF US ARE FIXIN' TO SHOVE OUR COLLECTIVE BOOTS UP HIS…DEMOCRAT MASCOT!!!
Instead of hiring new cabinet members, THE INSURGENT IN CHIEF NEEDS TO BE HIRING 2 MEN AND A TRUCK TO PACK UP HIS MAO CHRISTMAS ORNAMENTS, HIS COLLECTION OF WRITINGS FROM HUGO CHAVEZ AND HIS MUSLIM BROTHERHOOD MAN OF THE YEAR AWARD AND MOVE HIS KEESTER OUT OF OUR HOUSE!!!
Fuming.
A bunch of government red tape BUREAUCRATS ARE DESCENDING ON KENTUCKY THIS MORNING after a cargo ship collided with a bridge causing it to collapse.
They're going there to find out just how much of the bridge was damaged.
Let me take a shot…
ALL OF IT!!!!!
I'm guessing it's gonna take a 2-year ecological study TO FIGURE OUT WHERE THEY CAN PUT THE BARRICADE SIGN SO AS NOT TO DISRUPT THE HABITAT OF THE ENDANGERED REDNECK HOOT OWL!!!
So far, there is NO truth to the rumor that the ship's captain was doing a drive by horn toot for those gathered on the lake shore fishing with M-80's.
Here's the problem…
Because of big government, Kentucky officials say the bridge will be closed indefinitely. That's because, before they can rebuild the damn thing, THEY'RE GOING TO HAVE TO DO ECOLOGICAL IMPACT STUDIES, MEET EPA REGULATIONS, STUDY THE LIVING HELL OUT OF IT, HIRE GOVERNMENT APPROVED CONTRACTORS, MEET WITH FISH AND GAME OFFICIALS AND ON AND ON AND ON!!!!!
Back in 1942, ALL 1,700 MILES OF THE ALASKAN HIGHWAY WAS BUILT IN 6 MONTHS AND THIS BRIDGE IS GOING TO BE CLOSED INDEFINITELY????
For GOD'S sake…JUST BUILD A NEW BRIDGE!!!
I'm FUMING!
Last Tuesday, the EMPEROR enlightened us all with his State of the Socialist Union drivel. It was heartwarming, wasn't it? Watching him saunter down the aisle…shaking hands and hugging women?
Just as gratifying were the throngs of liberal/socialists trying to kiss his…ring…
Good grief…And we wonder how all those North Koreans could possibly wail like they did in the streets when THEIR dictator up and bought the farm??
I GUARANTEE YOU IF OUR EMPEROR SUDDENLY WENT BELLY UP…THE MOANING AND WAILING BY CHINESE PEASANTS WOULD LOUDER AND FILLED WITH ACTUAL TEARS!!!
Anyway…
During His Arrogance's speech, His Obamaness just HAD to go down the GREEN ENERGY rabbit hole again.
"What's true for natural gas is true for clean energy. In three years, our partnership with the private sector has already positioned America to be the world's leading manufacturer of high-tech batteries."
High Tech Batteries huh? Hey. Here's an idea…Why not give, oh…I don't know…something like $118 million bucks to some "high tech" battery company to get 'em started?
Oh yeah…HIS SPENDINGNESS ALREADY DID AND GUESS WHAT???
YESTERDAY THEY FILED FOR BANKRUPTCY!!!!!
First it was Solyndra which went down the solar toilet with $535 million of OUR money…Then it was Beacon Power crapping out with $43 million of OUR money and now…
Less than 48 hours after HIS LUNACY blew his horn about "HIGH TECH BATTERIES"… Ener1…a HIGH TECH BATTERY" company in Indiana GOES UP IN PROVERBIAL FLAMES WITH $118 MILLION DOLLARS OF OUR DAMN MONEY!!!
I swear, when it comes to picking investments…A SPASTIC MONKEY WITH A HAND FULL OF DARTS AND A SPINNING BOARD OF OPTIONS COULD DO A BETTER JOB!!!
Yeah, that's right…Let Joe Biden do it.
Here's the deal…Chain saws run on a mixture of gas and oil…the trucks they use to haul the trees the chain saws cut down do too…AND IT TAKES A BUTT LOAD OF COAL FIRED POWER PLANTS TO RUN THE MILLS THAT TURN THE LOGS INTO PULP TO PRODUCE THE PAPER HIS NUMB-NUTTEDNESS THINKS ALL THIS GREENIE WEENIE CRAP LOOKS GOOD ON!!!!!
Ener1, BEFORE THEY WENT UP IN SMOKE, was making lithium ion batteries WHICH ARE THE SAME BATTERIES THAT CAUSED THE CHEVY VOLTS TO GO UP IN SMOKE!!!
LAST YEAR IN HIS STATE OF DISBELIEF SPEECH, HIS BLOW-HARDEDNESS TOLD US WE WOULD HAVE 1 MILLION ELECTRIC CARS ON THE ROAD BY 2015!!!
HEY, YOUR ALINSKYNESS…WE DON'T NEED 1 MILLION ROLLING BONFIRES ON THE HIGHWAY!!!!!
Here's an idea – and yes, I know it's out there and highly questionable – but hey, I think it's worth a try.
Instead of green energy, how about we try a little black energy?
IT SEEMS TO ME COAL AND OIL APPEAR TO WORK!!!
WHY DON'T WE DIG OR DRILL A FEW NEW HOLES ON THE GROUND AND SEE WHAT HAPPENS???
WHY DON'T WE BUILD …OH I DON'T KNOW…A PIPELINE…SAY…FROM CANADA ALL THE WAY TO TEXAS OR SOMETHING???
IF WE TOOK THE $535 MILLION BUCK HIS BUTTHEADEDNESS GAVE SOLYNDRA, THE $43 MILLION HE GAVE BEACON AND THE $118 MILLION HIS WASTEFULNESS THREW AT ENER1…WE'D GET MORE USEFUL ENERGY OUT OF IT THAN ALL THOSE COMPANIES PRODUCED…
IF WE LIT IT ON FIRE!!!!!!!
Oh yes friends…It IS Friday and
I AM FUMING!!!!!!!!!