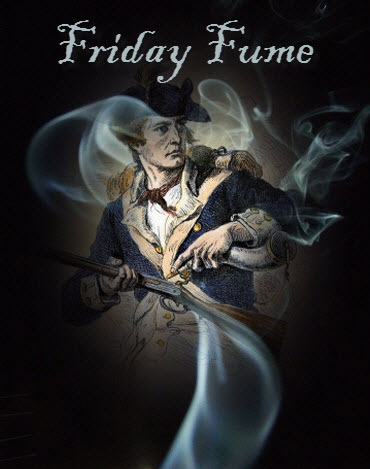 Well, we've reached the end of another week. Oh, it's been quite the week.
Patriots, I can't tell you how much inspiration I get from your common sense approach to life. It's what's RIGHT with the world that allows me to vent about what's LEFT in the world.
Today is Friday and no great surprise…
I'm fuming
Our first stop on the liberal train to oblivion this week is in Utah.
In Draper, Utah, at Canyon Corner High School, the student body's choice for a new school nickname has been…REJECTED!!!
Redskins? Nope. Braves? No again.
The district school board says the name choice could be an insult to middle aged women.
Yep…the Cougars.
SERIOUSLY???
In UTAH?????
Isn't Utah where one would find…the BYU COUGARS?????
Apparently COLLEGE cougars are more acceptable than cougars in HIGH SCHOOL!!!
FOR GOODNESS SAKE…DON'T CHANGE IT TO THE PANTHERS…lest those who would patrol voting booths with night sticks become miffed.
Warriors would be an affront to PAULBOTS…TROJANS would no doubt upset both Catholics who live in Utah….NOT TO MENTION ALL THE MORMONS!!!
How about we just call them the Canyon Corner Politically Correct Left Wing Liberal WUSSIES????
UNLESS THEIR MASCOT IS COURTNEY COX…COUGARS IS PERFECTLY FINE!!!!
Fuming.
Yesterday, Obama decided the best campaign swing he could make was to try to promote tourism and to do it, HE BROUGHT ONE OF THE NATION'S BIGGEST TOURIST DESTINATIONS TO A COMPLETE HALT!!!
THE SECRET SERVICE SHUT DOWN MAIN STREET…AT DISNEY WORLD…SO THIS FOOL COULD TALK ABOUT TOURISM???
Somehow, Obama trying to get reelected in the land of fantasy seemed fitting.
HE COULD HAVE AT LEAST TAKEN OFF THE MOUSE EARS IF HE WANTED TO BE TAKEN SERIOUSLY!!!
Wait, what? He wasn't WEARING a Mickey hat?
Those were HIS ears???
WASN'T IT ABOUT A YEAR AGO WHEN DUMBO TOLD PEOPLE NOT TO GO TO VEGAS? AND NOW…HE'S PROMOTING TOURISM???
Here's an idea…this November…why don't we FORCE THE VACATIONING VAGABOND INTO RETIREMENT WHERE HE CAN DO GOLFING COMMERCIALS FOR THE VILLAGES????
FUMING!!
Off to the land of raving Islamic lunacy we go…
Where JABBA THE HUT…MICHAEL MOORE was named the MOST FAMOUS FILM DIRECTOR IN IRAN!!!
Hey MOORE…over there…THEY have something like the Walk of Fame…but instead of putting your hand prints in cement…THEY BURY YOU UP TO YOUR NECK IN DIRT AND THROW ROCKS AT YOUR HEAD!!!
That Mr. 1% is so highly regarded IN A PLACE THAT HATES AMERICA should come as no great surprise, but Moore should be VERY careful if he decides to go over there to accept an award…LEST HE BE MISTAKEN FOR AN AIRCRAFT CARRIER!!!
In all seriousness…Moore should roll around in his new found fame like a pig rolls in poop…LOOK AT ALL THE GREAT PR JANE FONDA GOT WHEN NORTH VIETNAM MADE HER ACTRESS OF THE YEAR!!!!
I'M FUMING!!
Okay…REALLY?
A new law in Washington D.C. from the LIBERAL VERMIN WHO WROTE THE WILDLIFE PROTECTION ACT…makes it ILLEGAL TO KILL RATS!!!
Now…RATS AND OTHER RODENTS MUST BE…RELOCATED!!!
Exterminators must CAPTURE the disease infested VERMIN…PREFERABLY AS FULL FAMILIES…AND MOVE THEN TO SOMEPLACE ELSE AND RELEASE THEM!!!
This of course begs the question…WHY THE HELL DID WE RELOCATE OBAMA FROM CHICAGO TO WASHINGTON TO START WITH???
Oh yeah…we're gonna relocate him back to Chicago in a year so…
THESE ARE RATS AND MICE…ARE WE RUNNING SO LOW ON RATS AND MICE THAT WE HAVE TO SAVE THEM???
This, friends, is a microcosm of the liberal policy on illegal immigration.
DON'T SPLIT UP THE FAMILY…ROUND 'EM UP AND MOVE THEM TO ANOTHER CITY WHERE THEY HAVE SANCTUARY!!!!
Let me see if I have this straight.
LIBERALS THINK NOTHING OF KILLING JOBS…KILLING BUDGET PROPOSALS…KILLING THE ECONOMY AND KILLING CAPITALISM AND LIBERALS WILL GIVE GUNS TO MEXICAN DRUG CARTELS THAT ARE THEN USED TO KILL AMERICAN BORDER AGENTS….
BUT THEY WON'T LET YA KILL A RAT IN WASHINGTON D.C?????????
The next thing ya know, we're gonna be subsidizing these little rat families, giving them pensions, and helping them buy houses they can't afford.
Odd isn't it? That this came up the same week THAT THE OCCUPY CROWD INVADED D.C. AND SOME FLEA INFESTED 99% RAT TOSSED A SMOKE BOMB ONTO THE WHITE HOUSE LAWN???
Here's the problem.
THIS IS EXACTLY WHAT WE SHOULD EXPECT IF WE KEEP ELECTING RATS AND ALLOWING THEM TO WRITE LAWS.
THEY ALWAYS PROTECT THEIR OWN!!!!!!!
LIBERALS THINK IT'S A-OK TO KILL UNBORN CHILDREN BUT…RATS…MUST BE RELOCATED???
SERIOUSLY…
FUMING!!!!
And finally…Our weekly tour of liberal nonsense lands us on planet Gore.
Al Gore.
A LIBERAL BASTION OF BULL IF EVER THERE WAS ONE, had a couple of moments of noteworthy nothingness.
First….the blathering ball of blowhard bombast stated that civilization is at risk if climate change is not made part of the presidential debates.
HUH?
What's the matter Al…IS THE COLLECTION PLATE COMING UP A LITTLE THIN AT THE CHURCH OF GLOBAL WARMING???
IF ONLY SOMEBODY…ANYBODY…WOULD ASK HERMAN CAIN ABOUT…Cain's out? IF ONLY SOMEONE WOULD ASK BACHMANN ABOUT…Huh?
WHY DOESN'T A MODERATOR ASK HUNTSMAN ABOUT…Really…when did ….
Rick Perry? No?
PLEASE…ASK TRUMP…oh for GOD'S sake…
Ya know…call me crazy…but if nobody manages to ask Santorum or Newt, or Romney about global warming in the remaining debates…I'm guessing civilization will continue.
WHAT??? RON PAUL IS STILL IN IT???
The other moment of clarity from Al last week came in an interview when he stated, without blinking, that MSNBC isn't progressive enough.
MSNBC ISN'T PROGRESSIVE ENOUGH???
SERIOUSLY???
Kind of make one wonder, doesn't it, what OTHER astute observations Al Gore makes on a routine basis.
Let's plumb the shallow depths of Al Gore's mind, shall we?
OBAMA DOESN'T PLAY ENOUGH GOLF.
DEBBIE WHAT'S-HER-NAME SHULTZ ISN'T DELUSIONAL ENOUGH.
THE OBAMACARE BILL DIDN'T HAVE ENOUGH PAGES.
WEINER DIDN'T TWEET ENOUGH.
CHARLIE SHEEN IS WINNING.
THE CHEVY VOLT IS AN ALTERNATIVE HOME HEATING SOURCE.
SOLYNDRA WAS A GOOD INVESTMENT.
I'M AL GORE AND I WON IN FLORIDA.
Good grief…MSNBC ISN'T PROGRESSIVE ENOUGH? COMPARED TO WHAT EXACTLY???
That's like saying the USSR WASN'T COMMUNIST ENOUGH!!!!!
If MSNBC was any further up progressive keesters, IT WOULD LOOK LIKE OBAMA WAS IN THE MIDST OF A BREECH BIRTH!!!!!!!!
Oh for the love of GOD…
It's Friday and…
I AM FUMING!!!!!!!!!!!!!!!!!