By Craig Andresen – The National Patriot and Right Side Patriots on cprworldwidemedia.com
If there is such a thing, and I fully believe there is, as divine providence, clearly it played a most important part in the events surrounding the founding of this
nation.
For those who wish to separate Christmas from the politics of the day, I am with you but, one must realize that without connecting the two, we may well not have a nation at all.
When one thinks of Christmas, the true and first Christmas, one thinks of tiny Bethlehem. That's where it started. Bethlehem.
So too, via divine providence, is Bethlehem a key to our nation's birth.
Yes, it is a different Bethlehem than the one from the first Christmas but I ask you, is it coincidence? I rather doubt it as I don't believe in such things either in politics OR divine providence.
The day was December 25th, Christmas day. The year was 1776…
General Washington, whom was known by many of his men as "His Excellency" had been fighting a defensive war of revolution for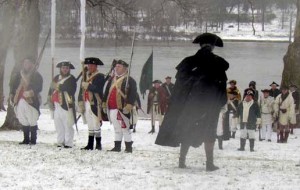 many months. A war of revolution fought on the defensive, as Washington knew, was a losing effort and indeed, the Continental Army was losing.
Washington and his troops were low, nearly absent of supplies and it was winter.
Washington determined that the only proper course was an attack but, in order to do so, it must come as a surprise and plans would have been made, mostly, in secret with only those most trusted and most necessary, knowing of it.
And so, in that manner, the plans were made and the target would be Trenton New Jersey. Trenton was, at the time, held by the Hessians who were fighting for the Crown.
Failure would have meant, more than likely, the defeat of the Continental Army and the failure of the revolution. Washington must surely have realized this and he also must have known, the odds were against him.
Slowly and quietly, on that December 25th, the word was spread through Washington's troops that they would make a most unlikely advance and they would make it that very night.
The weather was horrendous. Snowing, raining and windy enough for many who were there to regard it as a hurricane.
Washington and his troops were nowhere close, by the day's measure, to where they needed to be in order to launch such a strike and to reach THAT point, they would have to march.
March they did.
Those patriots, many without shoes or boots, marched through the snow, in THAT weather to the shore of the Delaware River where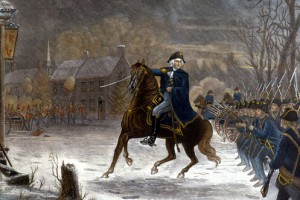 that ever so important crossing was about to take place. By the time they got there it was nearly 6pm. It was dark and there, where a motley collection of different boats were waiting, Washington took the lead and the rest…we know the rest.
Now, let's get back to that divine providence and for that, I give you the words of Elisha Bostwick.
Bostwick was THERE as a soldier under the command of General George Washington and he wrote of that day, that day of divine providence.
Remember the date…December 25th, 1776 and remember too, where exactly the FIRST Christmas happened. Remember these things as you read…
"[Our] army passed through Bethleham and Moravian town and so on to the Delaware which we crossed 9 miles north of Trenton and encamped on the Pennsylvania side and there remained to the 24th December. [O]ur whole army was then set on motion and toward evening began to re-cross the Delaware but by obstructions of ice in the river did not all get across till quite late in the evening, and all the time a constant fall of snow with some rain, and finally our march began with the torches of our field pieces stuck in the, exhalters. [They] sparkled and blazed in the storm all night and about day light a halt was made at which time his Excellency and aids came near to the front on the side of the path where soldiers stood."
While we have all seen the painting and we all know the story of the crossing of the Delaware, not many remember, or know, that it happened ON Christmas day, 1776, OR for that matter, that in order to get there, Washington and his troops marched through…Bethlehem…Pennsylvania.
The attack on Trenton took place the next morning and in fact, it did come as a surprise. The Continental Army took Trenton and it was that attack, brought about by a Christmas Day march through Bethlehem, which turned the tide of the revolution.
Think of it, as you listen to those whose ideology attempts to prevent us from issuing so much as a Merry Christmas, or placing a scene of Nativity in a park, or, as we have pointed out, caused those singing carols of Christmas to be thrown from a U.S. Post office…or a mall.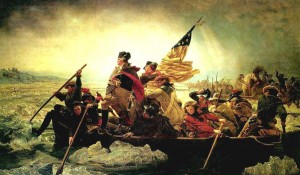 Our nation may well never have become a nation had not one of our founding fathers, an army General, made a Christmas day march, in the worst of conditions, through a town called, Bethlehem.
While this great nation was not founded in the adherence to any specific religion but on faith…How can one ever know the full story behind that famous painting and NOT believe in divine providence? How can one look at that painting and know the full story and state it was…just a coincidence?
How can anyone believe it is but right wing pandering to state that we support our troops on Christmas if they know the complete story behind that famous painting?
How?
I will not apologize for bringing up politics on this day of Christmas nor for wishing our troops and their families the very best Christmas because I know…I KNOW…it was Washington's troops…on Christmas Day in 1776, who marched in the snow, rain and wind, without shoes or boots, through…Bethlehem…to light the candle of FREEDOM which burns bright to this day.
I know.
And now…so do you.
REMINDER!!!
TODAY, December 24th on RIGHT SIDE PATRIOTS on CPR Worldwide Media from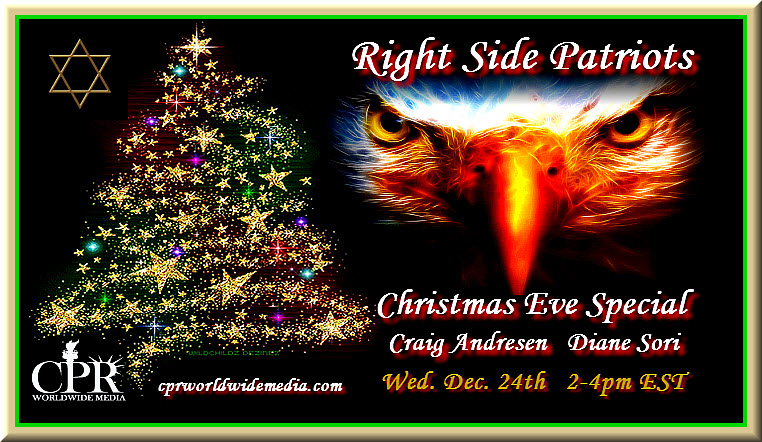 2 to 4pm EST, Craig and Diane will host their CHRISTMAS EVE SPECIAL with a 'Salute to Our Military' so very far from home, fun Christmas facts with a few twists you won't hear anyplace else, and special Christmas music from the RIGHT SIDE PATRIOTS vault of warped Christmas songs.
Hope you can join us… http://cprworldwidemedia.com/live-radio/
and chat with live shows at
https://www.facebook.com/groups/cprworldwidemedia/