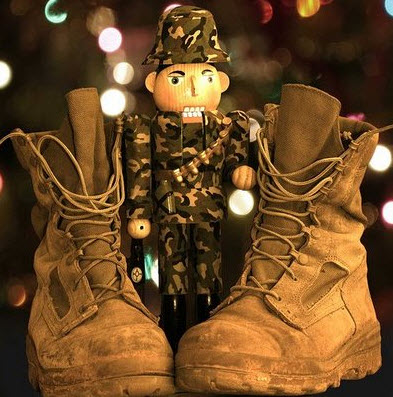 The National Patriot has a request. A special request.
While many of our best, the troops who have been stationed in places far away are coming home, we know all too well, many, many of those men and women who wear our uniform will not be home for Christmas.
We cannot tell them how much we appreciate what they do to protect our nation and our freedoms as well as the freedoms of others around the world.
There simply are no words adequate for that.
Here is our request.
If YOU know someone stationed far from home this Christmas, PLEASE forward the link to this article to them. We want to hear from THEM!!!
We want to know where THEY are…What THEY'RE doing and how THEY will celebrate Christmas.
We want those fine men and women to send THEIR greeting to whomever they wish via the comment box below this article!
Please, if YOU know someone, far from home this Christmas, send them this link.
For our uniformed BEST, if YOU have a photo you would like us to publish, PLEASE email it to ctmg1027@aol.com and put "Christmas" in the subject line. Be sure to identify who you are and who is in the photo.
The National Patriot will publish those photos ON CHRISTMAS DAY!!!
This is our first Christmas at The National Patriot and we would like to make this an annual tradition!
Remember, if you are stationed far from home this Christmas, email us a photo or a short video to ctmg1027@aol.com and The National Patriot will publish it on Christmas Day and please use the comment box below to add YOUR special Christmas message!!
Of course, there's more…
If YOU, our great friends and readers, would like to send YOUR greetings to our troops, USE THE COMMENT BOX BELOW and let them know how much YOU appreciate THEM!!!
It matters NOT whether it is Christmas or Chanukah greetings what MATTERS is that the greetings are SHARED!!!
Thank You ALL and MERRY CHRISTMAS!!!