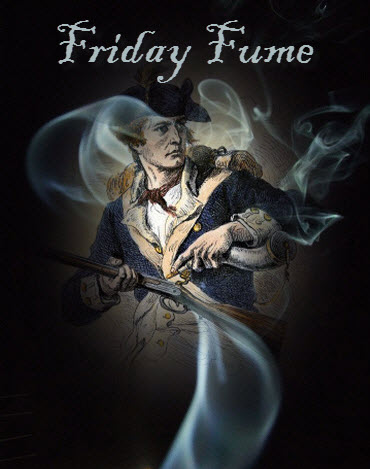 This week, through all the cooking and baking, through the plans made to spend a wonderful day with our family and friends and through aroma of turkey, potatoes, stuffing and pies…
I was unable to escape the moronic actions of liberals which have…
Dare I say it…
Left me FUMING!!!
Okay, this week the Occupy-anything-but-a-shower-stall geniuses are at it again.
FIRST…these KNOT-HEADS decided to OCCUPY THE NBA and take the side of the PLAYERS in the labor lock out!!!
Yeah…I know it and YOU know it but the "CAN'T SPELL GED CROWD of lice infected TB spreading violent dregs of society DON'T know it…
Ummmm…..THE AVERAGE SALARY OF YOUR GARDEN VARIETY NBA PLAYER IS 5 MILLION DOLLARS PER YEAR…WHICH PUTS ALL THOSE HUMAN HIGHLIGHT REELS SQUARELY IN THE TOP 1% YOU'VE BEEN SITTING ON YOUR BUTS IN PLACES YOU DON'T OWN TO PROTEST AGAINST!!!
Oh, but that wasn't the ONLY brilliant idea those WHOSE HEADS OCCUPY THEIR COLONS had this week. Oh HEAVENS no…
THEY DECIDED TO OCCUPY BLACK FRIDAY SALES TOO!!!
Right off, I see two problems with this.
First…SHOPPERS WHO ARE SPENDING MONEY AND HELPING THE ECONOMY ARE ALREADY OCCUPYING BLACK FRIDAY SALES…
And…
THOSE GREEDY CORPORATE STORE OWNERS ARE GIVING JOBS TO PEOPLE WHO AREN'T OUT RELIEVING THEMSELVES ON COP CARS AND SIDEWALKS!!!
While it WOULD be somewhat amusing to watch some OCCUPY-A-JAIL-CELL-IN-THE-NEAR-FUTURE moron try to stop someone trying to get the last $200.00 42 inch LCD TV off the shelf…
I can help it…
I'm fuming.
Obama…did NOT fail to show his TRUE colors once again this Thanksgiving.
During his Thanksgiving radio address…THIS OCCUPY-THE-OVAL-OFFICE orifice managed to get through the ENTIRE thing…WITHOUT EVEN ONCE MENTIONING…GOD!!!
He had a list of things he was thankful FOR…like Pilgrims and Pioneers and Patriots…WHICH MAKES HIS SPEECH SOUND LIKE IT WAS DELIVERED BY A 7 YEAR OLE AT SCHOOL…but not one single entity TO which he was thankful.
Oh he said he was grateful to those who defend our country overseas…WHICH IS RICH CONSIDERING WHEN HE'S OVERSEAS…HE'S APOLOGIZING FOR OUR COUNTRY!!!
I'm sure our troops were touched by his words and while they ate their MRE's…I HOPE THEY GAVE OBAMA THE BIRD!!!!
The floppy-eared TWIT even managed, IN HIS THANKSGIVING RADIO ADDRESS…to refer to the holiday as…"A CELEBRATION OF COMMUNITY!!!"
By the way…does anyone else believe that Obama's pardoning of the turkey is nothing but a dress rehearsal for the future pardoning of Eric Holder???
I digress…
At OUR Thanksgiving table, we thanked GOD for our meal…we thanked GOD for our friends, WE thanked god FOR OUR FAMILY and we THANKED GOD FOR THOSE WHO KEEP OUR NATION FREE!!!
NEXT THANKSGIVING, I'LL BE SURE TO THANK GOD THAT OBAMA…WHO CAN'T BRING HIMSELF TO THANK GOD FOR ANYTHING…HAS BEEN VOTED OUT OF OFFICE!!!
I'M fuming!
This year, our ever-so-vigilant Homeland Security Department…You know…THE IDIOTS  WHO HAVE MADE OUR SOUTHERN BORDER SAFER THAN EVER BEFORE BY HELPING THAT DIPSTICK, ERIC HOLDER, TO ARM THE MEXICAN DRUG CARTELS…          deemed it a matter of…NATIONAL SECURITY…to keep us all safe…FROM OUR OWN TURKEY FRIERS!!!!
Yep, just s few days before Thanksgiving, the DEPARTMENT OF HOMELAND SECURITY was busy distributing a VIDEO regarding the DANGERS OF YOUR TURKEY FRIER!!!
Apparently…AL QAEDA HAS TAKEN OVER THE DEEP FRIER MARKET AND IS SOMEHOW USING THEM TO DESTROY AMERICA…QUICK…SOMEBODY…RAISE THE NEW SECURITY THREAT LEVEL TO…KISS YOUR BUTT BYE BYE…OR WHATEVER IT IS NOW SINCE WE NO LONGER USE THE COLOR SYSTEM!!!
Ya know…it was just over a week ago WHEN OUR FEDERAL GOVERNMENT WAS TRYING TO TELL US WHAT KIND OF CHRISTMAS TREE TO BUY AND NOW…THEY ARE STICKING THEIR NOSES INTO OUR TURKEY???
WHAT'S NEXT??? TELLING THE PEOPLE PLANNING TO HEAD FOR NEW YORK TO WRAP UP THE NEW YEARS EVE CELEBRATION AT 10 PM SO AS NOT TO BE MAKING NOISE WHICH WOULD UPSET THE "OCCUPY-A-BATHROOM-FOR-ONCE-WOULD-YA" WEASELS???
THAT'LL PROBABLY BA HANDLED BY THE STATE DEPARTMENT!!!
I'm FUMING!!!
Finally, the Thanksgiving dessert.
This year, PETA decided to compare eating turkey to eating the family dog and ginned up a photo with Fido's head on a turkey's body to illustrate the insanity.
PETA wants us all to eat…TOFURKEY…WHATEVER THE HELL THAT IS!!!
Guess what…WE ATE TURKEY AT OUR HOUSE!!!
At one point, Ben Franklin thought the turkey should be our national bird.
For all the brilliance of Ben Franklin…THAT WAS JUST STUPID!!!
Had Franklin had HIS way…WE'D BE EATING BALD EAGLES on Thanksgiving!! The WHINING, SNIVELING BIRKENSTOCK WEARING, LEFT WING…YES WING…PETA IDIOTS THINK THE WORLD WOULD BE A BETTER PLACE IF ONLY WE ALL ATE TOFURKEY!!!
They try to convince us that TOFURKEY tastes just like TURKEY and has the SAME TEXTURE which to me is the exact reason TO EAT REAL TURKEY!!! WHY SETTLE FOR A SUBSTITUTE WHEN THE REAL THING IS AVAILABLE???
WHAT THESE TOFURKEY WEASELS ARE REALLY TRYING TO DO IS PUT THE POP UP TIMER MANUFACTURERS OUT OF BUSINESS.
Can you even IMAGINE what Thanksgiving must be like for these NIMRODS???
"Oh look…Jeremy and Rainbow just pulled up…Honey…be a dear and help them plug in their car so it'll be ready when it gets time for them to go."
"Greetings Timothy! Rainbow was just saying how glad she is that it's windy today. Your 3 blade turbine is spinning like crazy! We got all the way up to 35 miles an hour coming over."
"Happy Thanksgiving Blossom!! We brought the rolls and as you know, we always grind the whole wheat flour ourselves between 2 rocks we rescued from the side of the road. Isn't Obama dreamy?"
"Sure smells good in here!"
"Timothy, we really scored this year…Got a 16 pound Tofurkey loaf!!!"
"Free Range I hope…"
"HA…You have to ASK????"
"The green beans came straight from our garden and you KNOW…we recycle our eco toilet waste instead of using that HORRIBLE capitalist fertilizer."
"Okay…who wants to say GRACE???"
"Bwahahahahahahahahahaha….We NEVER get tired of that one…grace…BWAWAWAWAWAWAWAWA!!!"
THOSE ARE THE ORGANIC FRUITS, NUTS AND FLAKES WHO WOULD HAVE TOFURKEY FOR THANKSGIVING!!!!
AT LEAST THESE IDIOTS ARE SAFE FROM THE HORRORS AND NATIONAL SECURITY THREATS OF TURKEY FRIERS!!!
I'M SURPRISED THEY DON'T MAKE THE TSA FEEL UP EVERYBODY'S WHITE MEAT BEFORE YOU'RE ALLOWED TO SMOTHER IT IN GRAVY!!!!
Here's a NEWSFLASH for the PETA PEOPLE…IF IT AIN'T GOT GIBLETS…I AIN'T EATING IT ON THANKSGIVING!!!! NOW, TAKE YOUR TOFURKY AND…STUFF IT!!!!
I don't know about the rest of you but…
I PLAN ON SPENDING THE MAJORITY OF MY DAY TODAY…OCCUPYING A PLATE OF LEFTOVERS AND THANKING GOD FOR THE FOOTBALL GAMES I AM ABOUT TO START WATCHING!!!!!
It's the Friday after Thanksgiving and, though the aroma of A ONCE LIVING 17.4 POUND FEATHERED FOWL, COOKED IN SUCH A WAY TO WARRANT A NATIONAL SECURITY WARNING, IS STILL LINGERING IN MY KITCHEN…
I AM FUMING!!!!!!