Well, it seems Michele Bachmann's quest and campaign are nearly finished. Reports are filtering in that her entire paid staff in New Hampshire, the location of the 1st in the Nation Primary, has quit.
It seems to be true that all 6 of the staff she has had in New Hampshire have walked out the door. Bachmann has been laser focused on Iowa and that may well be the reason.
According to New Hampshire State Legislator, Fran Wendelboe, "It certainly underscores the impression that New Hampshire isn't a priority for her. She's totally written us off."
Early reports claim the staff was citing a lack of focus on New Hampshire as their reason for locking the door behind them.
Bachmann, who just hasn't been able to turn her early Iowa success into traction as the campaign has rolled on, and now, without a staff in New Hampshire may well soon withdraw from the race. While anything is possible, it seems with the possibility of that state's primary being but 6 weeks away, getting a whole new staff up to speed and running is approaching the impossible.
What remains, as of the writing of this piece, is confirmation from Bachmann that her New Hampshire staff has walked and what I believe will be the inevitable declaration that Bachmann is, herself, walking away from the 2012 bid.
One other thing, which is important, is to find out, if indeed she does drop out of the race, is who she will endorse as the campaign rolls on.
Will a Michelle Bachmann endorsement have any real impact at this point considering her rather shallow campaign bank account? It
may have more of an impact that some might think.
Not that her ability to raise money, or the lack of it is going to matter but Bachmann DOES have a determined and faithful following and her nod would send those supporters into an active promotion of her chosen candidate.
Anyway you look at it, Michele Bachmann's campaign has helped to pave the way for a new generation of women in politics and shown that a woman can and should be considered a viable candidate for any office. She has, without question, continued what women like Ferraro and Palin have started.
So, why the downfall?
Simply, Bachmann has stumbled too many times.
I don't believe it has anything to do with her policy positions but much more to do with her ability to accurately express herself during speaking engagements. To many misstatements, flubbed lines, blown dates and questionable historical statements.
It seemed clear, that both during and after the last CNN debate earlier this week, that Michele Bachmann was stressed and perhaps a little desperate to find a point, any point, which would take hold and her impassioned plea on behalf of mothers, fell flat lacking any policy statement to change what she, and others, see as shortfalls.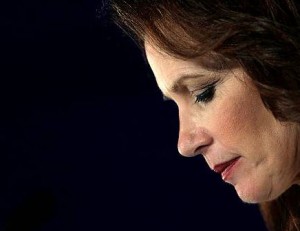 What does this mean for Bachmann's future in politics? That's anybody's guess at this point. Taking on a presidential race and coming up short, having your entire New Hampshire staff walk away with maybe only 6 weeks to go, is never a good sign but, I believe, the House would be better off with here IN it rather than OUT of it.
What happens next is up to her but for now, it appears, the beginning of the end of Michele Bachmann's campaign is upon us.
Bachmann is in California today and I would not expect to hear any final decision from her regarding the future of her campaign until after the weekend. What we are likely to hear, if anything, would be a short statement skirting the issue along the lines of…"We are assessing the situation at this time."
I also believe we will soon see more departures from the GOP field as well and perhaps, with fewer folks on the debate stage, we can get to more policy substance rather than sound bites and personal jabbing.