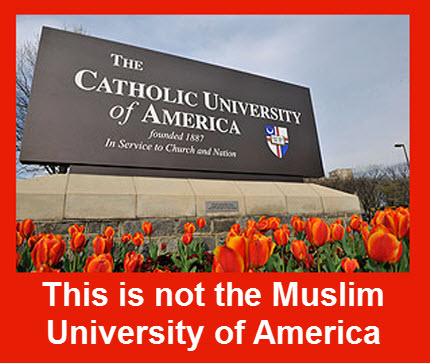 Really?
The Washington, D.C. Office of Human Rights says yes…Really. They ARE indeed investigating a possible violation of human rights regarding Muslim students.
Really?
John Banzhaf, an attorney and professor at George Washington University Law School says yes…Really…As he has filed an official complaint on behalf of those Muslim students.
Really?
Yes.
Muslim students at Catholic University are suing claiming their human rights have been violated because when they pray they are surrounded by…gasp…images of Christ, priests, saints and other Catholic imagery.
Here's a little something you need to realize about Catholic University…It's a private University.
Here's a little something that Muslim students need to realize about Catholic University…it's name is Catholic University.
Here's a little question to which I am certain many would like to hear the answer…Why would Muslim students want to attend…Catholic University?
Okay sure, Catholic University offers a top level education in many different theaters of study – but without slighting Catholic University in any way, so do many other schools.
Here's another question to which I'll bet I'm not the only one who would like to have answered…Did these Muslim students expect NOT to see Christian and or Catholic imagery all over the place on the campus of Catholic University?
According to their attorney, John Banzhaf…all they're asking for is a room without a cross on the wall or any other image related to Christianity or Catholics within it for Muslim prayers to be used by the 100 or so Muslim students who attend Catholic University. Says Banzhal, "Of all the hundreds of available rooms, why can't they remove the Christian and Catholic images from just one? It that too much to ask?"
In a word…Yes.
While I am not Catholic, I am, I believe, endowed with something which seems to have eluded the Washington D.C. Office of Human Rights, Attorney John Banzhaf and about 100 or so Muslim students…Common sense…And in that regard, I believe it is not only perfectly acceptable for an institution of higher learning, named Catholic University as a private entity, to have Catholic and Christian imagery on full display, but completely expected.
I'll go a step farther and suggest, considering this outrageous affront from these Muslim students and their attorney, that every broom closet, every hall way, every nook and cranny at Catholic University be so adorned.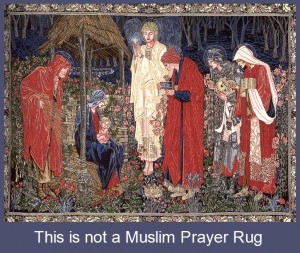 If Muslim students don't like it, they are free to hold whatever events they want off campus.
In fact, they're free to attend an entirely different University.
At first glance, this would seem to be nothing but utter foolishness and many might well simply dismiss it without a second thought. To do so would be wrong; and in many ways, a further eroding of our culture and our principles.
In bringing this action and investigation, attorney John Banzhaf and the Washington Office of Human Rights, regardless of the outcome, is lending credence to an ideology bent on destroying America and show just how political correctness is running amok in our society.
By complaining about the lack of a room without Catholic imagery in which to hold Muslim prayers at Catholic University, this group of Muslim students is showing their efforts at infiltrating our private institutions and attempting to force them to bow to their ideology.
The very fact that Catholic University would accept enrollment by students of other faiths or, in this case, ideology, says a great deal regarding their tolerance of others – but no private institution should be faced with legal action regarding their right to express themselves, their right to practice their religion or the way they decorate their halls.
This also goes a long ways toward showing the intolerance of those who subscribe to the Muslim ideology.
Any costs associated with this investigation or resulting from this litigation should be passed along to those 100 or so Muslim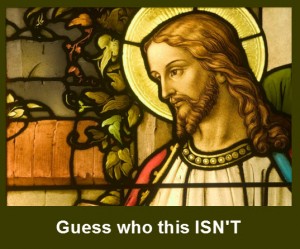 students and all Americans regardless of political affiliation of religion should stand solidly with Catholic University.
An example should be made of those who would bring such action against a private institution – and it should be a strong example at that lest those who subscribe to the Muslim ideology or others deem it appropriate in the future to attempt to tie up private institutions or private entities in such litigation or financial encumberment.
For those 100 or so Muslim students to even complain about not having a room at Catholic University clear of Catholic symbols or imagery in which to pray shows a disregard for principle. That this issue is under investigation and a law suit has been filed is immoral. Should it be found that Catholic University must bow to such ideology would be a violation of the Constitution.
Neither the Constitution nor the bill of rights establishes any right to political correctness and it's high time we, as Americans, acknowledge that fact just as it is high time that those who attempt to utilize political correctness to erode our values and principles realize it.
You can't fix stupid, but…Enough is enough.