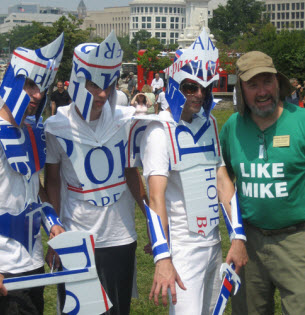 Anybody who is politically inclined, a conservative and into social media has no doubt been noticing the tactics and strategies of those who follow Ron Paul. If you're a Ron Paul follower yourself, you will no doubt start vibrating while reading this.
Paulbots can do themselves a big favor and save some time by getting their collective panties in a wad right now.
The latest tactic, or strategy being employed by the Ron Paul followers, Paulbots, is to attack through their various social media outlets, those who support Benjamin Netanyahu.
Paulbots, as we know, love to jump into the discussions of others and start poking those who are engaged with a stick trying to provoke a fight. This latest tactic simply isn't going to win them any friends in the conservative community. Oh, their choir will crow – but outside that select and isolated group, they're just completely missing the mark.
A Facebook friend posted a blog link about Netanyahu calling for shooting Palestinians who were throwing rocks at Israelis. The blog included an Israeli newspaper with the headline "Shoot to Kill." IMMEDIATELY, a Ron Paul supporter jumped in stating, "…noticed that Netanyahu, who tells people to "shoot to kill" Palestinian children throwing stones and wants to ban foreign media so they cannot report Israel's atrocities "inspires" you. You also call yourself a Christian which is something I highly doubt. I suppose you agree with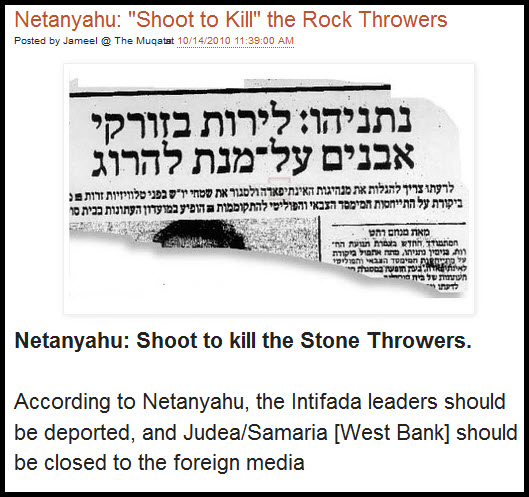 Netanyahu's stance in this article?" http://muqata.blogspot.com/2010/10/netanyahu-shoot-to-kill-rock-throwers.html
She didn't bother to mention that the article she mentioned was 23 years old nor did she bother to acknowledge that this has been brought up by a recent event where a young Palestinian threw a rock just days ago severely injuring a 20-month-old Israeli child.
Not saying that I would advocate shooting people who are throwing rocks on a general basis or as a general practice – I felt obligated to weigh in with this:
"I wonder how many of those who threw rocks, 23 years ago when Netanyahu said this, and weren't shot, have now taught their children to use bombs to kill the Jews. I am certain those who were shot, have not."
At this point, Noel, the "Paulbot" responded with, "I suppose it is "appropriate" for Zionists to post wanted posters with my picture calling me a Nazi etc. on my wall and 1000 of my friend's walls simply for acknowledging the existence of the Holodomor and Palestinian Holocausts too?" and followed that with, "So you believe the value of the life of a Jew to be greater than that of a non-Jew then Craig? Have you ever even heard of the Holodomor Holocaust, I wonder? I suppose you are one of the people who say Palestine never existed too? (-;"
Ahhh…A trifecta! Noel played the Nazi card, the victim card AND managed to assign to me words I never said nor ever intended or implied. Basically, there are two groups who most often employ these tactics and those would be liberals and Ron Paul followers.
Noel continued. "Christians do not condone genocide. It's that simple. I see he just liked that Netanyahu inspired him. Perhaps Mr. Weaver should not call himself a Christian, when he is not."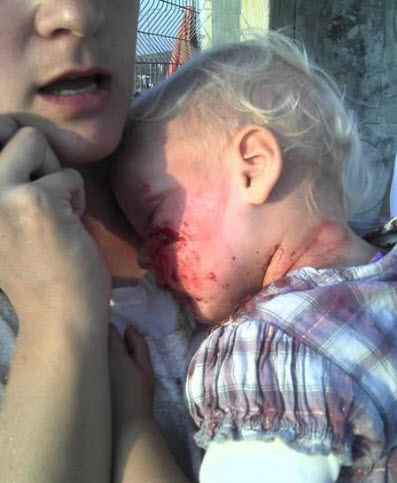 Again, Noel assigned a falsehood, this time to Mr. Weaver, as he had never advocated or condoned genocide in his posting.
My next comment was simple. "I believe in being open minded but not so much so that my brains fall out and as a Christian, I believe in turning the other cheek…until I run out of cheeks."
Noel responded, "Mr Andresen, you said, and I quote, "I wonder how many of those who threw rocks, 23 years ago when Netanyahu said this, and weren't shot, have now taught their children to use bombs to kill the Jews." I am certain those who were shot, have not." Clearly, this indicates a certain perspective."
I decided to give Noel the benefit of the doubt. "You are quite astute Noel as it does indeed indicate a certain perspective however it does not indicate the perspective you attempted to ascribe to be in a previous comment. I suspect you know as little about me as you do about Patrick."
Noel of course came right back at me. "Are you aware that Israel instituted terrorism in the Middle East, that the first suicide bomber was an American born Israeli named Baruch Goldstein, and that our own media fired an [sic] news anchor for telling the truth about who broke a ceasefire…it was Israel…."
For a while, I left the "discussion" as I was rather busy at the time on other matters but I did leave here with this nugget. "I am aware that Netanyahu is now advocating for a peaceful solution and an independent Palestine regardless of his stance some 23 years ago and therefore I am much more inspired by him than by you. Further, I am much more interested in Netanyahu's plans for peace in the region than in playing a game of  "Well THEY started it" with you Noel.
Checking back in after a while I saw how Noel had continued on her "Christians" are more moral than Jews tirade so I simply stated,

"It may also come as quite a shock to some but…Jesus was a Jew. As a Christian, I Stand With Israel.
When Noel left this response, I decided it just wasn't worth my time or effort any longer. "I am aware that Jesus was a Jew (-; but he was a Christian Jew and promoted the Christian religion, not Judaism."
Good grief. Jesus was a Jew…period. His FOLLOWERS became the first Christians – and while I fully realize this is a simplified definition, Jesus did not promote the Christian religion as that just plain didn't exist until after his death. Jesus was born a Jew, lived his life as a Jew, taught in the Jewish Temples, was referred to as Rabbi and died a Jew.
This however is NOT meant to be some sort of theological lesson.
This is what it is. A Ron Paul follower attacking those who stand with Netanyahu, support Netanyahu, are inspired by Netanyahu and or ascribe all of these attributes toward the Nation of Israel.
Am I stating unequivocally that Paul or his followers are anti Semites? No. Am I stating that ALL Ron Paul followers are employing this tactic? No. I will say, however, that this is not the first I've seen it employed nor do I believe it will be the last.
I will also go so far as to say, in regard to the 23-year-old article which led to the above "discussion" that it was rock throwing which started Crystal Nacht and we all know what happened next.
Am I playing the NAZI card with that statement? Well, if you read the Charter of Hamas which is the primary doctrine followed by the Palestinian Authority, you will find that they advocate the killing of Jews and the elimination of Israel. So, I believe a direct correlation can be drawn.
In Noel's, and others similar arguments regarding a stance against Netanyahu and Israel, whether or not they intentionally mean to do so, these Ron Paul followers are taking the si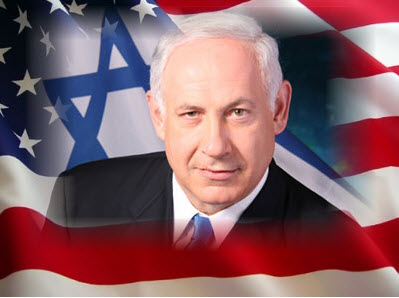 de of the Palestinians and by default, Hamas.
Does that mean either they or Paul himself advocate the elimination of Israel and the killing of Jews? Honestly, I don't know. You would have to ask them directly.
At any rate, it's a misguided strategy at best and a failing tactic as well. Ron Paul is not going to win friends or influence people amongst true conservatives, amongst the majority of independents or within the Jewish community by attacking those who stand with Israel or with Netanyahu.
As for Ron Paul followers, NOT mentioning Ron Paul in your comments really isn't fooling anyone as the red flags start to wave from your very first comments. I quick check of Noel's wall confirmed my initial suspicions.
From Noel's wall:
Political Views
Have decided to vote for Ron Paul, thanks to this article. Read the comments. (-; Let's put America first, not Israel… http://www.newsrealblog.com/2011/02/17/ron-paul-is-a-vicious-anti-semite-and-anti-american-and-conservatives-need-to-wash-their-hands-of-him/
The National Patriot stands with Israel – and I, as a Christian and a Patriot also stand with Israel, am inspired by Prime Minister Netanyahu and know, as does Mr. Netanyahu, that peace can only come when the Palestinians respect and recognize the Jewish State of Israel.