By Jennifer Stephens on May 13, 2011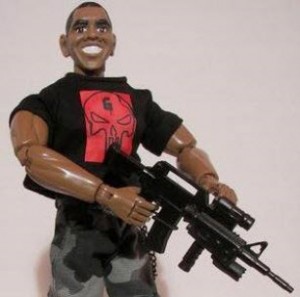 A toy company, HeroBuilders, has created an Obama action figure with him dressed as a Navy SEAL from SEAL Team 6, our heroes who took care of bin Laden. What an insult to our SEALs. (And as a Marine I have to say, insulting the SEALs is a seriously bad idea. Hazardous-to-the-health bad idea…) Obama has never served, and certainly not as an elite SEAL. He has never endured the training they go through. He has never made the sacrifices they make.
They are heroes, he is not.
This same company has created an Obama figure with him looking like the Joker – a popular image with the Tea Party. This seems to mean that they aren't interested in the politics, only the money. So I suggest hitting them where it will hurt the most – the pocket book.
Please, my fellow Conservatives, boycott HeroBuilders. Send a message that this kind of disregard for, and insult to, our heroes will not be tolerated by patriotic Americans. Is it really to the point in this country that we will insult our heroes, the Troops who protect us, to try and make a quick buck? Though, I will admit they got Obama's stupid, cheesy grin right… As a Conservative, I'm against too much government regulation of business. But I am all for businesses being regulated by common decency; and when that fails, by the power of the American buyer to tell a company they've gone to far by not buying the product. We the People have the ultimate power in business, by not giving our money to businesses we don't support.
This is not a company that deserves our support. Of course, many on the Left probably love this new toy. After all, Obama is their hero. They'd love to give him the credit for taking out bin Laden; credit he does not deserve. Sure, he gave the final okay on the mission. But I think that's only because he knew the backlash he'd get if the American public found out he knew where bin Laden was and refused to give the order to take bin Laden out. And he no doubt hoped that being the one to give that order would help his ratings, and it has. But it's still more than a year 'til the election, more than enough time for the ratings to go back down.
The credit for taking out bin Laden goes to SEAL Team 6, and those who got them the information needed to plan that mission.And as much as the Left hates to admit it, the 'enhanced interrogation' tactics approved by Bush likely did play a role in getting us the information needed. If any President deserves the credit, it's W. If anything is wrong, Obama is quick to blame anyone else; W, the Tea Party, oil companies, whoever. But if there is credit to be taken, he fast enough to take it, even when he doesn't deserve it. This does go along with the Liberal 'entitlement mentality', that has previously been discussed here.
You're entitled to money you didn't earn and to credit for something you didn't do. Sure, Obama didn't create this 'action figure'; but he isn't coming out and condemning it. And how many Liberals are rushing out to buy this disgusting toy? One of my Conservative friends did have an interesting idea: buy the action figure as a chew toy for her dogs… I'd just worry that the pups might choke on the small pieces. But that is about the level of respect and treatment this disgraceful toy deserves.