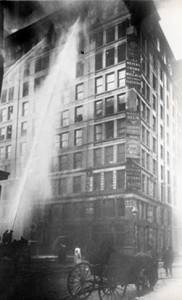 By Patty Ewing Robichaud, March 25, 2011
It was 100 years ago today that the Triangle Shirtwaist Factory fire claimed the lives of many young women – due in great part to oppressive working conditions, a below-standards building, and a fire department ill equipped to deal with a 10-story building. The story is tragic on every level as it was preventable.
The event also spurred the labor unions into action – and rightfully so. Unions caught the public's and journalists eye as they demanded that such practices that caused such a great loss of life in a matter of minutes would never happen again. Politicians listened, and laws changed. Occupational health and safety became a priority – as bid building inspections to find those not meeting the building codes. Women eventually were allowed to vote.
So I began my preparations to write an article outlining the differences between unions then and now. I thought looking at historical events of 1911 would help give me a better perspective of the world at that time – it was the same year my maternal grandmother was born – but I found more than I expected, so this piece is taking a jog down a slightly different avenue. Stay with me here – grab a drink or snack and shake off the feeling that you know what I am going to write.
Jan 2nd – Brooklyn Dodgers president Charles Ebbets announces purchase of grounds to build a new concrete-and-steel stadium to seat 30,000
Jan 3rd – US postal savings bank inaugurated
Jan 5th – San Francisco has its first air meet
Jan 7th – 1st airplane bombing experiments with explosives, San Francisco
Jan 10th – 1st photo in US taken from an airplane, San Diego
Jan 18th – 1st shipboard landing of a plane (Tanforan Park to USS Pennsylvania)
Jan 26th – Glenn Curtiss pilots 1st successful hydroplane, San Diego
Jan 30th – 1st rescue of an air passenger by a ship, near Havana, Cuba
Jan 31st – Congress names SF as Panama Canal opening celebration site
Feb 6th – 1st old-age home opened in Prescott, Ariz

Feb 8th – US helps overthrow Pres Miguel Devila of Honduras
Feb 17th – 1st hydroplane flight to & from a ship (Glenn Curtiss, San Diego)
Mar 3rd – 1st US federal cemetery with Union & Rebel graves opens, Missouri
Mar 4th – Victor Berger (Wisconsin) becomes 1st socialist congressman in US
Mar 7th – US sent 20,000 troops to Mexican border
Mar 7th – Willis Farnsworth, Petaluma, CA, patents coin-operated locker
Mar 18th – North Dakota enacts a hail insurance law
Mar 25th – Triangle Shirtwaist Factory catches fire 145 die, all but 13 girls
Apr 27th – Following the resignation and death of William P. Frye, a compromise is reached to rotate the office of President pro tempore of the United States Senate.
May 15th – Supreme Court dissolves Standard Oil (Sherman Antitrust Act)
May 23rd – NY Public Library building at 5th Avenue dedicated by Pres Taft
Jun 1st – 1st US group insurance policy written, Passaic, NJ
Jun 15th – Tabulating Computing Recording Corporation (IBM) is incorporated.
Jun 16th – A 772 gram stony meteorite strikes the earth near Kilbourn, Columbia County, Wisconsin damaging a barn.
Jun 20th – NAACP incorporates (NY)
Jun 30th – US Assay Office in St Louis, Missouri closes
Jul 4th – 105°F (41°C) at Vernon, Vermont (state record)
Jul 4th – 106°F (41°C) at Nashua, New Hampshire (state record)
Jul 10th – 105°F (41°C) at North Bridgton, Maine (state record)
Jul 14th-15th – 46″ of rain falls in Baguio, Philippines
Jul 15th – 46″ of rain (begining 7/14) falls in Baguio, Philippines
Aug 8th – The millionth patent is filed in the United States Patent Office by Francis Holton for a tubeless vehicle tire.
Aug 8th – Public Law 62-5 sets the number of representatives in the United States House of Representatives at 435. The law would come into effect in 1913.
Aug 15th – Procter & Gamble unveils its Crisco shortening
Aug 28th – 45.7 cm rainfall at St George, Georgia (state record)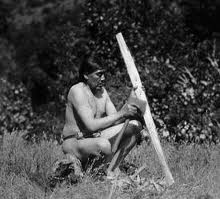 Aug 29th – Ishi, considered the last Native American to make contact with European Americans, emerges from the wilderness of northeastern California.
Sep 17th – 1st transcontinental airplane flight, NY-Pasadena in 82 hrs 4 min
Nov 3rd – Chevrolet officially enters the automobile market in competition with the Ford Model T.
Nov 5th – Calbraith Rodgers arrives in Pasadena completing 1st transcontinental airplane flight (49 days) (left Sheepshead Bay, NY, Sept 17)
Nov 10th – Andrew Carnegie forms Carnegie Corp (for scholarly & charitable works)
Nov 11th – Many cities in the U.S. Midwest broke their record highs and lows on the same day as a strong cold front rolls through. (see The 11/11/11 cold wave).
I took out international incidents in Middle America, the Middle East, Taiwan, Britain preparing for possible war with Germany, and Italy attacking the Turks. I also left out sporting events – and there were some big ones and major milestones. To see the entire listing, go to Today in History for Year 1911.
It was a time of invention, industry, ingenuity, exploration, and human rights. Buildings were getting bigger, baseball stadiums were getting bigger, and adventurers were pushing the boundaries of flight. Exciting stuff! I can almost smell the excitement and wonder that must have filled the air in the big cities with changes coming so quickly that it must have seemed magical.
Then I noticed some familiar weather themes:
Record Heat
Record Cold
Record Rain
Does Al Gore know about this, I wonder – and who will he blame.
I noticed troops being sent to the border of Mexico. I'll grant you, it was not to protect from illegal immigrants and drug trafficking – but because there was civil and political upheaval in Mexico that threatened to spill over into the USA.
But what really grabbed me was the two news items about Wisconsin!! Until recently, I have never thought too much about Wisconsin, except knowing uncles from there and now my neighbors – all good salt-of-the-earth hard working folks. I know they have cheese and the Packers. I know now they are in the public eye with elected officials vs. unions – trying to balance the budget and follow the needs of the people. I recently learned that Wisconsin had been particularly progressive, allowing unions in the public sector.
Well, in 1911, Wisconsin was noteworthy for a meteorite and electing the first Socialist to Congress, Victor Berger, a teacher and . I'm sorry – I never saw that coming, not for a minute. According to the Wisconsin Historical Society:
An American Socialist leader and Congressman, Berger was born in Austria-Hungary. He studied at universities in Budapest and Vienna, then emigrated in 1878 to the United States and settled in Milwaukee. After 1892 he devoted himself to Socialist politics and journalism, editing the Milwaukee Vorwärts! from 1892 to 1898. With Eugene V. Debs he was instrumental in the creation of the American Socialist party. In 1910, his leadership helped the Socialists win control of Milwaukee government for many years. Berger was elected the first Socialist member of Congress and served from 1911 to 1913. He was reelected in 1918 and 1919. Congress excluded his seat on grounds of sedition, a charge for which he was sentenced to a 20-year prison term. The U.S. Supreme Court reversed this decision in 1921. He was allowed to take his seat when reelected in 1922. Again elected in 1924 and 1926, he was defeated in 1928. Voice and Pen (1929) is a collection of his speeches and editorials.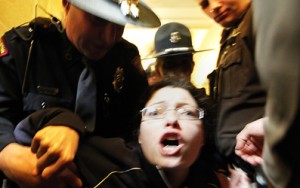 Now it is falling into place for me – Wisconsin politics are far from the norm and at least some of the population has no problem with socialism. Perhaps that can help explain why the unions are so entrenched and aggressive – the sense of entitlement goes beyond the norm for most states.
Even so, are the citizens of Wisconsin so entrenched in unions that they do not see that the country has changed quite a bit in the last 100 years? Are there any public servants working in a building with blocked exits and no sprinklers? Are workers truly not safe without unions? Or have the unions slowly become the Big Money that unions purport to fight and have somehow managed to dupe their members.
Well, you may not agree with me – but I see any union as large as these public-sector unions have executives and staff with big salaries, so they have a huge investment to protect. Keeping the members in the dark and diverting their attention with the big bad governor who must protect what few state assets are remaining without taxing citizens into oblivion is a necessity.
Even so, the people of Wisconsin must be catching on that times, they are a-changin', and elected a majority of conservative legislatures and governor to straighten out the bloated budget. And the elected officials delivered, working to overcome 100 years of socialist influences.
The union has screamed unfair and acted egregiously, issuing threats and intimidation as a tactic to force things to fit their desires. They have taken the matter to court – where a law rightfully passed should stand up as being the will of the majority of the tax-paying citizens of the state. But wait, no – another speed bump.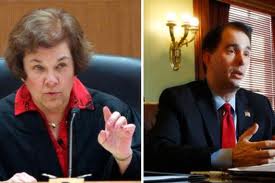 Dane County Circuit Judge Maryann Sumi issued a temporary restraining order barring the publication of the new law that would sharply curtail collective bargaining for public employees.
On the surface, it would seem a matter of interpretation and perhaps the judge is too timid to make such a controversial ruling, particularly with election time approaching. But no, it is more murky than that – in fact, it stinks.
It turns out Judge Sumi refused to order striking teachers back to work in February – even though the teachers were violating the law.  But worse, much worse than that, after her TRO ruling, it was discovered she has a conflict of interest as outlined by Red State:
This is a problem. Judge Maryann Sumi should have recused herself entirely from the Wisconsin battle due to her inability to be neutral in this case. You see, Maryann Sumi has a clear conflict of interest. Her son is a political operative who also happens to be a former lead field manager with the AFL-CIO and data manager for the SEIU State Council. Both the SEIU and the AFL-CIO have members who are public-sector employees in Wisconsin. In fact, as a federation, the AFL-CIO can boast of several member-unions that represent public-sector employees. Maryann Sumi is hardly an unbiased judge in the matter.
Jacob "Jake" Sinderbrand, Sumi's son [see page nine here], runs a company called Left Field Strategies, a firm that works on political campaigns.
We are a firm dedicated to maximizing efficient and effective voter contact in a modern campaign atmosphere. Specializing in doorknocking and phone bank strategies, we use state-of-the-art campaign resources to ensure that no doorknock or phone call is wasted as you campaign for office. We bring extensive experience as professional canvassers and callers, who have knocked on tens of thousands of doors, and have cut hundreds of thousands of doors and phone numbers for various issue and electoral campaigns.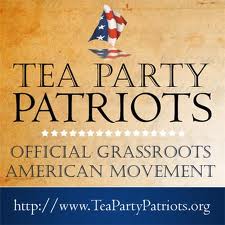 Why is nobody calling foul? Have the unions and the judges/politicians they fund through election campaign donations become as corrupt as big business and politicians were in 1911? Who will fight for the rights of the taxpayers? Certainly not the unions. We now need an anti-union to break up the union's grip.
Perhaps the Tea Party will fill that need. I hope so. I do not believe the vision of 100 years ago and all of the lives lost to improve our way of living should just be taken for granted as we slide into a socialist, entitled society.
It would seem the old adage is true: The more things change, the more they remain the same. I hope we can reach back and take hold of the ingenuity, inventiveness, creativity, adventurousness, reward for one's own work, and the need to improve the lives of man that enveloped our forefathers just 100 years ago.